A Guide to Potter Heigham
To help you make the most of your stay in Potter Heigham, and to ensure you see the best the region has to offer, we've put together a comprehensive guide to the village and the beautiful surrounding area.
One of the major centres for Norfolk Broads boat hire and boating holidays, the pretty village of Potter Heigham is a great destination for anyone who wants to explore the area. As well as boat hire, the village also has a great choice of places to eat and drink as well as a number of historic and natural attractions. Whether you're just visiting the for the day or are staying in Potter Heigham for a week or two, you'll find more than enough to keep you busy in this picturesque corner of England.
To help you make the most of your stay in Potter Heigham, and to ensure you see the best the region has to offer, we've put together a comprehensive guide to the village and the beautiful surrounding area.
Sights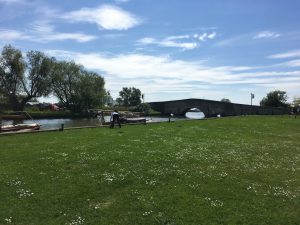 Like many towns and villages in Norfolk, Potter Heigham is hundreds of years old. One of the most famous sights in the area is the village's medieval bridge. Built around 1385, the bridge carries road traffic over the River Thurne. The bridge is well known among boaters on the Broads thanks to its low central arch. Reaching a height of just 6 ft. 9", the bridge is only navigable by boats with a low air draft (distance from the surface of the water to the highest point on a vessel) with more opportunity at low water. Smaller boats and particularly day boats, unless the tidal waters are high don't usually have a problem. This is a popular way to explore these quieter areas. It's not uncommon at low tide to see a queue of boats waiting to pass through the bridge. If you want to get through unscathed, it's well worth hiring a local 'pilot' to get you and your craft to the other side of this low, narrow tunnel. Those who hire cruisers are obligated to use the bridge pilot as a matter of course.
A live webcam runs 24/7 and a features the medieval bridge at Potter Heigham. Take a look at the webcam and check the weather in Potter Heigham too. The webcam at Potter Heigham gives a taste of this particular area on the Norfolk Broads and offers viewers to see boats passing through the bridge often with an inch to spare! Watch dayboats head off to the quieter broads found near Hickling, where wildlife is in abundance. The summer months often offer clear blue skies and detailed views of this area with stunning sun-rises captured by the webcam.
Another important historical sight in Potter Heigham is the Church of St Nicholas. Dedicated to the patron saint of fishermen and children, the church dates from 12th century. Its 14th century octagonal extension is one of the best preserved in the country. Famed for its thatch, its hammerbeam roof and its unique 15th century brick font, the church is well worth a look during your stay in the area.
The staithe around the Broads in Potter Heigham is a popular visiting point, with plenty of food outlets to enjoy a snack from, river views and benches in plentiful supply to stop and watch the world go by. An ageless past-time is to feed the ducks which take residence there all year-round.
A pretty line of waterside cottages, many available to hire, are dotted along the waters edge with people watching the boating folk pass by.
Pubs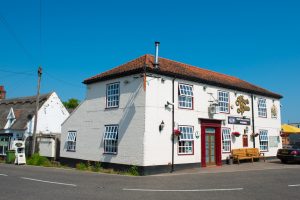 There are a few pubs in Potter Heigham itself and a number of others in the local area. If you're staying in the village, enjoy a drink at the Falgate Inn. A friendly country pub with a good choice of meals and drinks, it's the perfect place to relax and unwind after a busy day on the Broads.
Another good and closest option for visitors travelling by boat and those staying in Potter Heigham is the Norada Pub & Restaurant. Located just a stone's throw from the River Thurne, close to the majority of the village's moorings, the pub serves up high quality pizzas amongst other offerings to hungry diners. The Norada has a great kids play area and regular events take place in the pub throughout the week.
Just five minutes from Potter Heigham you'll find the Kings Arms. Located in nearby Ludham, the pub offers a good choice of food options throughout the day including burgers, sandwiches, salads and snacks. There's regular live music at The Kings Arms throughout the year, so make sure you check to their website to see what's on if you're in the area.
Amenities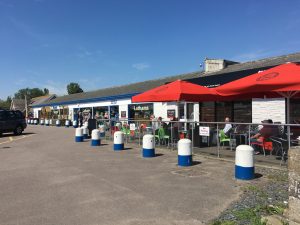 If you want to send a postcard to your nearest and dearest during your stay in Potter Heigham, you'll find a post office on Bridge Road, close to the Falgate Inn. The post office is also home to a small convenience shop, allowing you to stock up on essential supplies while you're out and about. Lathams, close to the River Thurne offers a good choice of fishing tackle, kitchen accessories, with a wider choice of supplies and a selection of other affordable products.
Lovely's Gift Shop, is situated next door to the local ice-parlour, offering the opportunity to 'take a little something lovely home' as their signage explains.
Places to Eat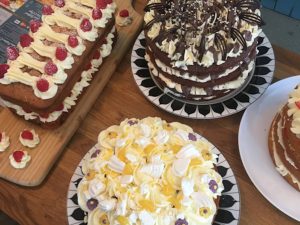 As well as a choice of pubs, Potter Heigham has a number of other places to eat. Just next to Lathams and the River Thurne is the Flour and Bean Café. A great choice for breakfasts and light lunches, the café offers an excellent selection of classic dishes and freshly brewed coffees.
A resident but mobile 'Burgers and Beverages' offers passers by tempting bacon rolls and burgers & a delicious supply of ice-creams in the summer.
This riverside part of Potter Heigham is also home to BridgeStones of Potter Heigham. Offering a wonderful selection of meals and in particular freshly baked cakes as well as homemade scones and specialities teas, the café is the perfect destination for an afternoon pit stop. Takeaways are available and the café often has full roast dinners available on Sundays.
After a busy day out on the Broads, there are few things better than digging into fresh fish and chips. Harry's fish bar is located just over the bridge or head to Taylor's Fish and Chip Shop in nearby Martham for your fried fish fix.
Boat Hire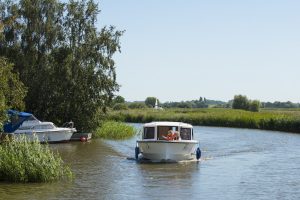 Boat hire is one of the main reasons that people travel to Potter Heigham. Right in the heart of the Norfolk Broads, the village offers easy access to the region's beautiful waterways. You can hire a boat for the day and explore nearby Hickling Broad or the Ludham and Potter Heigham Marshes. Alternatively, book a Norfolk Broads boating holiday for a weekend or even a week and head out to explore the farthest reaches of the Northern or Southern Broads.
Norfolk Broads boat hire in Potter Heigham is easy and affordable and you'll find boats of all sizes available. Hire a boat on the day or book your vessel in advance so you know exactly what type of boat you're getting.
A lot of the pubs in the area have moorings, making it easy to stop and enjoy a drink or freshly prepared meal. Ask your hire company which nearby pubs offer the best facilities to visitors travelling by boat.
Walking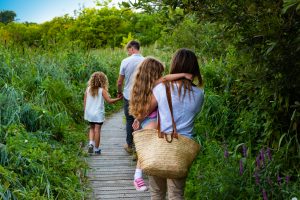 The area around Potter Heigham offers a great choice of walking routes, ranging from short circular strolls to long distance hikes. For a relaxing walk around the village and immediate area, begin at Potter Heigham Bridge and then walk along the bank of the River Thurne to the inland edge of Hickling Broad. From there, you can walk back down a farm road until you return to the bridge. Some of these paths can become churned up after heavy rain, so make sure you wear your wellies if visiting in wet weather. There are a number of other circular walks in the area, many of which take in local sights and nearby pubs, so make sure you get out and about during your stay in the region.
If you're an experienced walker and want a little more of a challenge, you could attempt the Weavers' Way. This long distance route stretches for 56 miles from Cromer to Great Yarmouth, passing through Potter Heigham on the way. Spend a day walking some of this epic route and you'll be able to see some of the most beautiful countryside the region has to offer.
Cycling
In recent years, cycling has boomed in popularity on the Norfolk Broads and there are many cycle routes in the area. The Tour de Broads is now one of the biggest cycling events in the UK and hundreds of people visit the area for biking holidays every year. As a result, there's been a lot of investment in cycling infrastructure and there are now a number of excellent bike paths to explore. While some routes take you on the roads, others offer the chance to cut through fields and along rivers, far away from the sound of traffic. As Norfolk is largely flat, cycling in the area is suitable for people of all ages. Bike hire is available from a number of places on the Broads or you can bring your bikes with you.
Fishing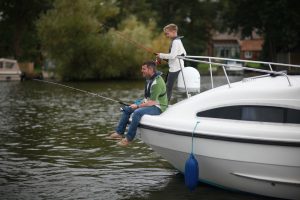 Before you head out fishing on the Norfolk Broads, you'll need to pick up a licence from the post office in Potter Heigham (or your local branch if you're not staying in the village). These are cheap and easy to get so make sure you get yours before you start fishing. The fishing season on the Broads runs from the 16th June to the 14th March the following year.
Potter Heigham itself is one of the best fishing spots on the Broads. Bream, Roach, Hybrids and Eel can be found in the waters around the village or you can head to nearby Wroxham or Hickling Broad if you want to catch Ruff or Pike. Fish from one of the many riverside spots that dot the area or hire a boat and spend a lazy day fishing from its deck.
Nature Reserves
There are two national nature reserves in the parish of Potter Heigham: Ludham – Potter Heigham NNR and Heigham Holmes NNR. Heigham Holmes is only accessible via a floating swing bridge across the River Thurne and is open to the public just once a year. Ludham-Potter NNR is an internationally important wetland area and is a great place to spot birds and unusual insects.
Whether you're heading to the area for a boating trip, a walking holiday or just a country escape, Potter Heigham has a lot to offer. Get out and explore the region's waterways, footpaths, pubs, nature reserves and historic sights and there's a very good chance you'll never want to leave.
Learn more about boat hire in Potter Heigham, and about things to do in the local area, by taking a look around our site or getting in touch with a member of our team.
Did you find this article useful? Why not visit our Norfolk Broads boating holiday page or browse our fantastic boats for hire for more information on our services?