Discover the Broads by Bike
Cycling the Norfolk Broads is a great way to experience the beauty of the National Park and with its gentle terrain and quiet country lanes the Broads are suitable for cyclists of all ages and abilities.
Bringing your Bike on holiday
If you are booking a Norfolk Broads holiday and would like to cycle the Norfolk Broads whilst you are here, you may want to consider bringing your own bikes from home.
If you are thinking about a Norfolk Broads boating holiday and would like to bring your bikes onboard look out for the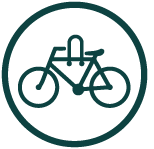 logo to find out which of our cruisers are bike friendly. If you have already booked your holiday and are not sure if your boat is suitable just contact our booking team who will be happy to advise you. Remember you will need to pack at least two bike locks to secure your bike to the boat.
If you are staying on land in one of our waterside holiday cottages or apartments then lockable storage units for bikes are available outside each property just remember to bring your own padlock.
Norfolk Broads Cycle Routes
There are miles of Norfolk Broads cycle routes for you to enjoy including the Three Rivers Way, a new purpose built cycle route connecting the villages of Hoveton & Horning. Alternatively explore one of the Norfolk Broads cycle routes around the Northern and Southern Broads.
If you're looking for a map with some great routes then take a look on Broads By Bike
There is also the Bure Valley Path which is a shared use path from Hoveton to Aylsham and is easily accessible from the moorings in Hoveton. Find Out More
Norfolk Broads Cycle Hire
If you don't have a bike or are unable to bring yours from home you can still enjoy cycling the Norfolk Broads. There are a number of bike hire options available across both the Northern and Southern Broads. Hire from one of the Norfolk Broads cycle hire centres below or take advantage of the new Broads By Cycle scheme, offering self-service bike hire along the Three Rivers Way.
Cycle Hire Centres
Please note: All the BroadsByCycle hire points have now closed.