Loddon
Located along the River Chet, Loddon is considered a hidden gem among the southern Broads. The little market town offers plenty to see and do, including a stunning Holy Trinity church, independent shopping and an abundance of local cafes and restaurants. Loddon's church boasts the town's rich history as it dates back to 1490. Within the large church is an ancient poor box, which was a medieval baptismal font, and a painting of William of Norwich who is rumoured to have been crucified back in the 12th century.
Mooring at Loddon can be done at the local staithe, which is a beautiful spot with an 18th century water mill. Today the mill is used as a music and comedy venue, known as Loddon Mill Arts. A short stroll from the Staithe is the Holy Trinity church within Loddon's town centre. Alongside the church are local stores, including The Emporium, a haven for boutique jewellery, gifts and more. Loddon boasts many pubs and restaurants, so visitors can dine on local fish and chips, Chinese, pizza and more.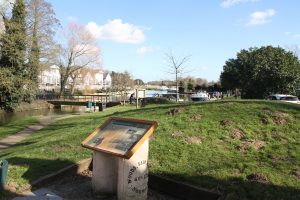 Nearby is a Site of Special Scientific Interest, Hardley Flood Bird Reserve. It can be found along Wherryman's Way via Chedgrave and is a fine spot for nature lovers. Lots of rare wildlife live within the shallow lagoons and reed beds.
Mooring
●      Loddon Staithe: On the River Chet with public showers and toilets.
●      Marfett Cruisers: Free mooring for Broads Hire Boat Federation.
●      Pacific Cruisers: Free mooring for Broads Hire Boat Federation.
●      Pyes Mill
●      Chedgrave Common
Eating & Drinking
●      Spoon Cake
●      The Swan
●      Rosy Lee's Tea Room
●      The Raj
●      The White Horse at Chedgrave
Groceries
●      Cooperative Food
●      Premier Bridge Stores
Tourist Information
●      Loddon Tourist Information Centre on Bridge Street