Coltishall
Coltishall is a peaceful Broadland Village on the banks of the River Bure. If arriving by boat use the bridge pilot to pass under Wroxham Bridge and leave the hustle and bustle behind as you cruise up the tranquil waters of the River Bure.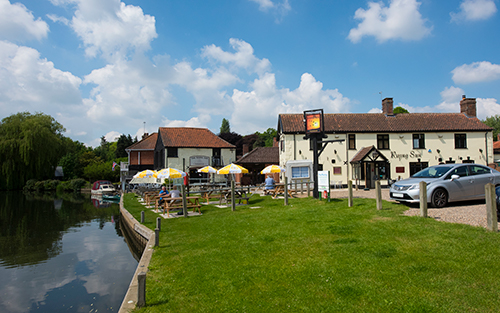 Historically Coltishall was the centre of the malting industry and many Norfolk Wherries where built here. Nearby, RAF Coltishall was an important base for Jaguar fighter bombers during WWII. The base closed in 2006 and is now an enterprise park.
The River Bure continues north towards Aylsham, however since 1912 navigation for powered craft ends at Coltishall. Navigation further north closed as a result of the 5 locks, Coltishall & Horstead, Buxton, Oxnead, Burgh and Aylsham being washed out during the great flood of 26th August 1912.
The picturesque staithe is located a mile from the village centre next to Coltishall common, a large expanse of grass perfect for games, dog walking or a riverside picnic.
Two pubs and a convenience store with Post Office are adjacent to the staithe and the thatched church of St John is easy walking distance. Head into the village to find further eating options and shops.
From Coltishall lock walk along the riverside footpath to the village of Horstead where you can find another pub and Farm shop & Deli.
Mooring
Free BA moorings are available at Coltishall common
Eating & Drinking 
The Rising Sun
The King's Head
The Red Lion
A Piece of Cake
The Norfolk Mead Hotel
Nearby – The Recruiting Sergeant
Groceries 
Mace Convenience Store & Post Office
Londis
Nearby – Farm to Fork & Fish