Potter Heigham
Home of Herbert Woods, Potter Heigham is a popular village on the banks of the River Thurne. The low medieval bridge which crosses the river is thought to date back to 1385 and is notorious with Broads boaters. Passage should not be attempted without the use of the Bridge Pilot, and spectators will often congregate on the staithe to watch boats passing through the bridge.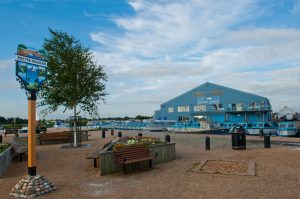 If the water is too high to pass under the bridge, you can still enjoy a trip to Hickling by hiring a day boat or canoe from Herbert Woods just enquire at reception. Alternatively you can walk to Hickling Broad Nature Reserve from Potter Heigham, simply follow the footpath alongside the Broads Haven Tavern past High's Drainage Mill and Heigham Sound to the Bird Hide at the edge of the Broad.
A trip to Potter Heigham is not complete without a trip to Lathams the biggest discount store on the Broads. Perfect for picking up those last minute essentials, their product range includes groceries, clothing, home ware, motoring & toys. There is a garden centre to the rear of the store and Lathams Fishing Store on the opposite side of Bridge Road, has everything an angler could need.
The main residential village is located at the other side of the A149, here you will find, the thatched church of St Nicholas where Herbert Woods is buried and a Children's Play Area.
Mooring 
Free BA moorings are available at Martham bank and Repps bank
Herbert Woods
Eating & Drinking 
Bridge Stones
Flour & Bean
Falgate Inn
Norada Pub and Restaurant
Bangers & Beverages
Potter Fish Bar
Groceries 
Lathams
Premier Convenience Store & Post Office
Pictures of Potter Heigham