Beccles
Located on the banks of the River Waveney, Beccles is a quaint market town in Suffolk. With charming winding streets and stunning riverside houses, Beccles was once a Saxon fishing port. With a rich history in the town, there is plenty to see and do. In the centre of Beccles is St Michael's Church, with an impressive 16th Century bell tower and renowned architecture. Visitors can climb the 122 steps to the top of the 100ft tower and take in breathtaking views spanning 20 miles.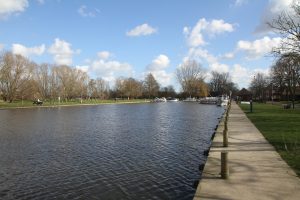 Beccles Quay is the best spot for mooring in Beccles, with a large grassy area, a little café and children's play area. Wander into the town where you will find a selection of local shops and restaurants. Beccles Museum is free to enter and well worth a visit, as is Beccles Lido on a warm day. The Beccles Marsh Trail is perfect for nature-lovers. It comprises three trails which explore the unique wildlife and plants in the area.
Geldeston Lock is just along the river from Beccles and offers one of the most unspoilt parts of the Broads. There are crystal clear waters which are home to a host of wildlife and plants. The lock has plenty of Broad Authority 24 hours mooring which are free of charge and is also the spot of one of the most famed pubs in the Broads: The Locks Inn.
Moorings
●      Beccles Quay or Beccles Yacht Station: privately managed and a mooring fee applies. Electric hook ups, toilets, laundry facilities and showers on site. Booking recommended by calling the Harbour Master on 01502 712225.
●      Geldeston Lock: Free BA Mooring.
Eating & Drinking
●      Beccles Quay Café
●      Twyford's Café
●      The Lock Inn
●      The Waveney House Hotel
Groceries
●      Morrisons
●      Tesco
Tourist Information
●      Visitor information available at Beccles Books, Beccles Library and Saxon Therapy.