Reedham
Stretched along the north bank of the River Yare, the village of Reedham was once a hub of local boating industry, with a number of wherries being built here. Arriving from Great Yarmouth you will enter Reedham through the swing bridge which takes the railway over the river Yare. A single red flag on the bridge shows that it is operational and in service, check your height on the gauge at the side of the bridge and if you need the bridge to open give three long blasts on the horn. Opposite the bridge you will find the The Ship, the start of Reedham Quay and the main village.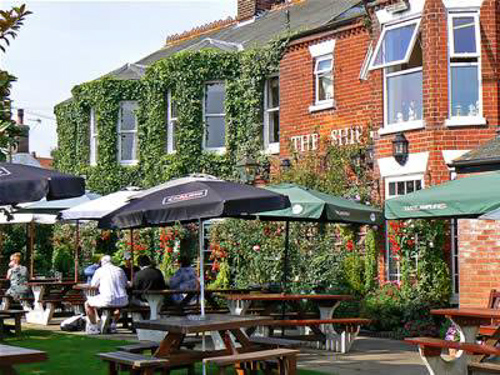 Along the quay you will find a pub, Post Office and coffee shop, as well as a statue commemorating the villages wherry building past.
At the western end of the village  is Reedham chain ferry. Which is the only vehicle crossing point on the Yare between Norwich and Yarmouth. Adjacent to the bridge is a pub, moorings and a campsite.
In land from the quay is the residential part of the village, here you will find a General Store and Fish & Chip shop.
North of town on Low Common Road is the church of St John the Baptist, Pettitts Animal Adventure Park and the Humpty Dumpty Brewery, a popular Norfolk Micro Brewery with cellar door shop selling their beers, cider and locally produced chutneys, tasting is available by request.
Mooring
Free BA moorings are available at Reedham Quay
Reedham Marina
Sanderson Marine
Reedham Ferry Inn
Eating and Drinking
The Ship
Reedham Ferry Inn
The Lord Nelson
Cupcakes
Reedham Fish & Chips
Groceries
Reedham Post Office
Reedham Stores