10 Sights on the Norfolk Broads you Won't Want to Miss
There are lots of reasons people have been flocking to the Norfolk Broads for decades. From stunning scenery, riverside pubs, amazing fishing, walking & generally just taking life at a slower pace and becoming absorbed in the tranquil atmosphere of The Broads.There are many sights to see that you won't want to miss on your visit to the Norfolk Broads, we've chosen our top 10 for you.
You'll find the ruins of a 1000-year-old monastery along the River Bure. This was the only monastery in England not to be closed by Henry VIII during Tudor times, but the building began to vanish along with its centrepiece church. The ruins make a stunning backdrop to the Broads landscape. You can moor here for free overnight if you're not fazed by the possible sound of the ghost of a traitorous monk, Essric the Bailiff!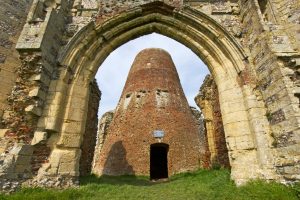 How Hill
A real must see on your boating holiday is How Hill Trust. A large thatched Edwardian house sits on the brow of How Hill which is located on the River Ant. The site includes Toad Hole which is a period thatched cottage displayed as it would have been to show what life was like for a marshman many years ago. It also boats a secret garden amongst extensive gardens, three restored drainage mills and woodland trails. It has amazing views from the top of the hill and is a great place to stop on the sloping lawn for a picnic or moor here overnight where 24-hour free side-on mooring is plentiful.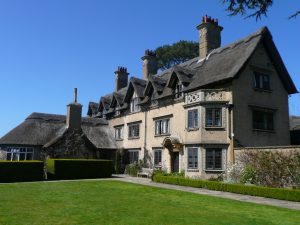 Ranworth
A 'must-see' on any trip to the Norfolk Broads…Overlooking Malthouse Broad, Ranworth is a delightful broads' village. Moor at the staithe and enjoy a walk along the board walk to Norfolk Wildlife Trusts floating wildlife centre which has panoramic views across Ranworth Broad. Here you can learn more about the unique wildlife of the broads and view great crested grebes, cormorants, marsh harriers and the occasional kingfisher. The board walk passes through woodland and reed bed habitats full of interesting plants and woodland birds. During summer keep your eyes peeled for Swallowtail butterflies and Norfolk Hawker dragonflies. The view from the top of St. Helen's church, otherwise known as the 'Cathedral of the Broads' is breathtaking. Just the 89 steps, two ladders and a trap door to reach it, but well worth it!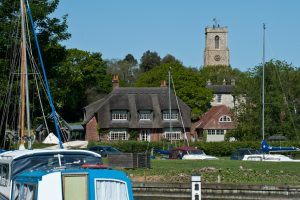 Thurne Mill
Thurne Mill, around 45 minutes by boat from Herbert Woods marina, is a striking and 200-year-old white working mill on the Norfolk Broads. The Broads are steeped in history and during the 1800's some 240 mills were to be found all over the broads, but today less than 75 still stand however some are in ruins. A few mills have been restored and are often open to the public such as Horsey Mill. Read our blog on 5 Must See Windpumps and Windmills on the Norfolk Broads, where to find them on your visit to the Norfolk Broads.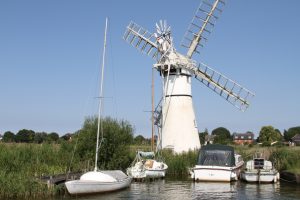 Hickling Broad Nature Reserve
The famous medieval bridge at Potter Heigham gives access to the Upper Thurne, Hickling Broad and Horsey Mere. Hickling Broad is the largest of the broads and is an absolute haven for wildlife. You'll find a large percentage of the common crane, bittern and marsh harriers here. You could also see the Chinese Water Deer and otters here too. Moorings are available on a first come first serve basis and can booked directly with Norfolk Wildlife Trust.
All Herbert Woods day boats and some of our cruisers are still lucky enough pass under the bridge in the right conditions which we can advise you on at time of booking.
Call us on 0800 144 4472 or visit www.herbertwoods.co.uk to find out more.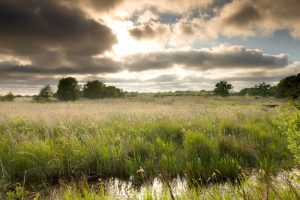 Sunken Wherries on Surlingham Broad
Wherries in the late 19th and 20th century were used for carrying goods from the coast to inland villages and the city of Norwich. They could travel the shallow waterways and smaller wherries were even built to reach the trickier stretches. Railways and steam powered coasters began to take the trade away and made wherries unprofitable. This saw the wherries either dismantled, converted with the addition of a motor and the masts removed, broken down to be used to strengthen banks or even sunk. Traces of sunken wherries can be seen at low tide on Surlingham Broad. It was actually here that Joyce Lambert, a stratigrapher discovered the Broads were man made formed from peat diggings. There are just 8 restored wherries left on the Broads today, some of which can be chartered.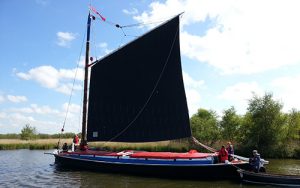 Hoveton Little Broad
Hoveton Little Broad is also known as Black Horse Broad can be found between the middle reaches of the River Bure between Hoveton and Horning. Be sure to visit in Summer as the broad is closed to boats in winter to allow water birds to breed.
The broad is known as Black Horse Broad because of the pub that once stood, a waterlogged path allowed the wherrymen to get to the pub from the waters edge.
In the mid-20th century, Herbert Woods himself and around 30 local men, led a public campaign to allow a right of access the Broad after several local landowners prevented access by placing a barrier across the dyke. Agreement was reached to allow access from Easter to Mid-September as a result. You can't moor here but you can mud weight.
Norwich Cathedral
Located in the heart of city centre and just a few steps from Norwich Yacht Station on the River Wensum where there are approximately 50 mooring spaces. This is actually a canal that was formed for boats to bring stone and building materials to drop at Pulls Ferry (a flint, 15th-century Watergate) to build Norwich Cathedral. The cathedral was requested to be built by another person by the name of Herbert, a Herbert de losinga. The Cathedral spire is iconic with Norwich and dominates the skyline measuring at 315 ft (96 m), making it the second-tallest in England. The cathedral is steeped in history and it's worth a guided tour by a volunteer guides where visitors can gain a greater insight into the 900-year-old history of the Cathedral. Tours run frequently throughout the week.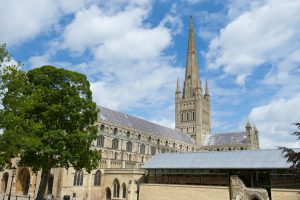 Burgh Castle Roman Ruins
Burgh Castle is Roman shore fort constructed around the 3rd century AD and was used as defence point against Saxon raids from the rivers and coast. Set on obvious higher ground, it slopes towards the River Waveney offering spectacular panoramic views over Breydon water. It is regarded as one of the best-preserved Roman monuments in East Anglia. The 'Angles Way' trail which runs from Great Yarmouth to Thetford goes past Burgh Castle alongside Breydon Water. Several shorter walks are also possible in the area. Read more about walks on the Norfolk Broads.
Wroxham
Wroxham located on the River Bure is often referred to as the 'Capital of the Broads' and is well known for 'Roys of Wroxham' set up by the Roy brothers to provide holiday makers with the necessary provisions. You'll find plenty of moorings here and a bridge which boat hirers are required to use the bridge pilot to pass under if they are able to in order to reach Coltishall. Wroxham is popular with rail enthusiasts, the home of the Bure Valley Railway, a 15-inch gauge steam railway running between Wroxham and Aylsham and Wroxham Miniature Worlds, the home of the largest indoor model railway on permanent public display in the UK. You'll also find numerous places to stop for afternoon tea or a tipple and meal in a waterside restaurant or pub.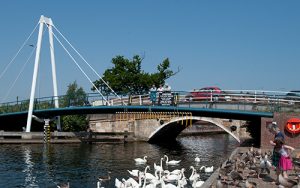 Did you find this article useful? Why not visit our Norfolk Broads boating holiday page or browse our fantastic boats for hire for more information on our services?