Discover Norwich
For most people no holiday in Norfolk is complete without visiting the historic city of Norwich as there are so many compelling reasons to do so.
It sits on the banks of the River Wensum so it is accessible by boat from the Broads. During the early medieval period Norwich was the second biggest city in the country after London and it is certainly a place steeped in history.
Its skyline is dominated by the magnificent Cathedral, which has the second highest spire in the country, and is one of the finest Norman buildings in England. Construction work began in 1096 and it was built from limestone brought over from Caen in Normandy.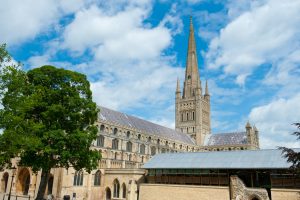 Today it welcomes tens of thousands of visitors each year who come to see the over 1,000 medieval roof boss carvings, along with many original Norman wall paintings and even some genuine medieval graffiti! Visitors can also see a Civil War musket ball embedded in Bishop Goldwell's tomb.
It holds over 1,500 services each year as well as being a venue for lectures, concerts, festivals events and exhibitions.
Currently there is an exhibition in the Cathedral's Hostry and Education Centre entitled 'Incarnation, Mary &Women from The Bible.' This runs until 13 April and is a sensitive, innovative and thought provoking depiction of women from both Old & New Testaments.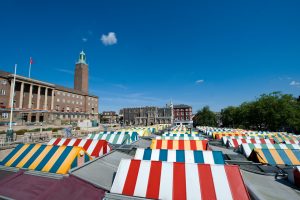 Norwich also boasts another large and impressive Normal building – the Castle. The Domesday Book tells us 98 Saxon homes were demolished to enable the Castle to be built and it was completed in 1121 using the same limestone as the Cathedral. The king, Henry I spent Christmas in the Castle the year it was completed.
The Normans also started a market in the shadow of the Castle which is still thriving on the same spot today!
For many years the Castle served as the county gaol, becoming a museum in 1894 and has remained one ever since.
Today it is open seven days a week and visitors can see a number of special 'galleries' devoted to decorative arts; the Anglo Saxons & Vikings; Norfolk' own Queen Boudicca; Egypt and natural history. There are also regular dungeon and battlement tours.
Another historic part of Norwich that is a must to visit is Elm Hill. This is a picturesque cobbled street that has remained virtually unaltered since the 16th century and features an array of stunning timber framed buildings.
It takes its name from the elm trees that stood in the area but sadly all but one have fallen victim to disease.
At one end of Elm Hill is The Briton's Arms which dates back to 1347 and is now a restaurant. It stands three stories high, unusual for a medieval building, and is reported to be the only building in Elm Hill to survive a devastating fire in 1507.
Of course there are plenty of reasons to visit Norwich today apart from its history. There are two large shopping malls as well as 'The Lanes' where you will find a collection of independent shops. While Norwich Market is still on the same site 900 years after it started and has around 200 stalls selling a wide range of goods and produce.
Norwich also boasts plenty of fine pubs and restaurants, many centred in and around Tombland close to the Cathedral.
So it is well worth spending a day there and exploring for yourself!
Did you find this article useful? Why not visit our Norfolk Broads boating holiday page or browse our fantastic boats for hire for more information on our services?