A look back over 2014
As we come to the end of 2014 we thought it would be a good time to look back and reflect on what has happened at Herbert Woods throughout what has been another action packed year, one theme seemed to keep cropping up – anniversaries!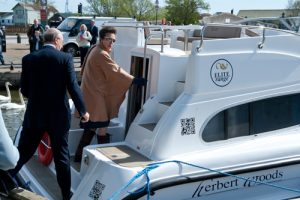 The highlight has to be the visit of HRH The Princess Royal who came in April to take part in our 'Heritage Day' celebrations held to mark the 60th anniversary of the death of Herbert Woods who was one of the true pioneers of Broads boating holidays.
We were delighted that both of Herbert Woods' surviving daughters, Jennifer Broom and Jill Grapes were present, with Jennifer having flown from New Zealand to be at the event. During the day The Princess Royal made a presentation to Dennis George to mark his 50 years of loyal service with the company.
There were also plenty of boats on display for the Princess Royal to see including Spark of Light, built in 1927 and the oldest Herbert Woods hire cruiser still afloat.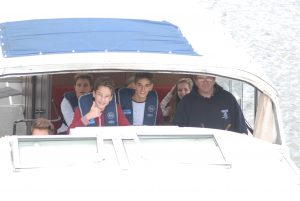 This year has also seen another 60th anniversary, this time it was Steyning School in Sussex who have brought a party to the Norfolk Broads every year since 1954. This year 80 students and 19 teachers took 12 of our cruisers out for a week and tradition says they must follow the same itinerary which includes a church service at Ranworth, a cross country run for the boys, shopping in Norwich and a BBQ at Salhouse.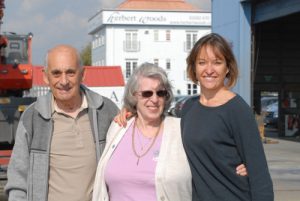 Keeping up with the anniversary theme, a rather special lady came and stayed with us this year – exactly 70 years since she had her first holiday on the Norfolk Broads! Mavis Bonser and husband John enjoy three holidays a year with Herbert Woods, either taking a waterside cottage or a cruiser.
"I think when I first came it was about £50 a week and my parents saved all year for that holiday," said Mavis. "The boats were all made of wood and were a lot narrower. You had to push the top of the taps to make them work and if I remember correctly when I first visited Wroxham, Roy's store was a little nissen hut."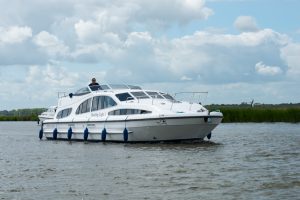 During the year we started the construction of a brand new type of cruiser. Dazzling Light will be a 44 foot, ten berth vessel with the first one entering the water in March, and a second a few months later.
This is part of our continuing programme of investment to ensure we have the best cruisers available for our customers.
Dazzling Light will be large, spacious and very well equipped – the ideal boat for family groups as it has four, en-suite double bedrooms. It also has bow thrusters for ease of mooring, sun deck with dining area, dual steering, warm air heating and LCD TV & DVD able to receive all Freeview channels.
In 2014 we brought back one of the most iconic names associated with boating holidays on the Norfolk Broads – Connoisseur Cruisers.
The name was first used by Porter & Haylett founded in Wroxham in 1951. However it disappeared some years ago after that company was bought by a large travel organisation.
In 2013 we purchased 30 cruisers built by Porter & Haylett and each one was overhauled and extensively refurbished before being put back into the water this year. They have been specifically designed for the Norfolk Broads and each can sleep up to eight and all cabins are en-suite. The spacious saloons feature a sliding canopy so people can enjoy the fine weather.
During this year we also introduced a new online booking system. This means you can now manage all aspects of your booking with us online and at a time and place to suit you. Towards the end of the year we also redesigned our website to make it even more user friendly.
So all in all an exciting year for us at Herbert Woods. We are sure 2015 will be just as exciting and we look forward to giving you a warm welcome at Potter Heigham.
Happy New Year!
Did you find this article useful? Why not visit our Norfolk Broads boating holiday page or browse our fantastic boats for hire for more information on our services?