We've been busy this winter!
At Herbert Woods we are invested in making each and every holiday the perfect experience for our customers. Therefore, we ensure not only that we maintain our boats throughout the year, but, when we get the chance to make some improvements, we take them! We think as our customers spend so much time on our cruisers they are the best people to tell us what is needed to make their next stay even better, so we really value feedback and use it to make some small but significant improvements throughout the year to all our cruisers and cottages.
Taking our customer's feedback on board regarding Gleaming Light our yard team have been busy spending time on making sure she has everything she needs before we start our busy 2020 season.
Have a look at the work our team have been doing!
External – New Canopy added!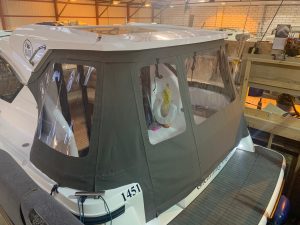 Gleaming Light has been given a smart new canopy enabling you to enclose the external seating area/sundeck allowing you to enjoy some fabulous views while staying comfy and warm in the comfort of your very own boat.
Gleaming already had warm air heating throughout but now our engineers have also added an external heater to Gleaming Light so evenings can be spent relaxing under the stars, snug and cosy with a source of heat right next to you!
Windlass – Electric Mudweight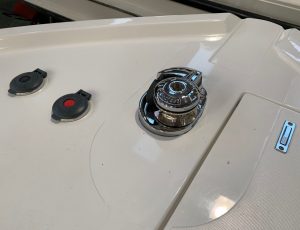 It may not look very exciting but the addition of this Windlass, an electric mud weight, makes life on board so much easier! Just a touch of a button to easily drop or lift the anchor so no more tugging on ropes to get your anchor back!
We're ready for 2020!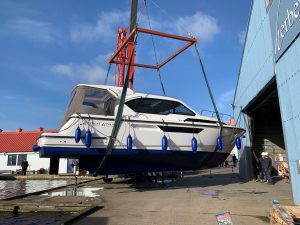 Finally, the yard team also went through their extensive winter check list.
With Gleaming out of the water, they ensured her exterior was cleaned and polished; a hull protection called anti foul was applied; her rudder was checked and protected against rust with a red oxide primer; and brand-new mooring ropes were attached.
All of this before our cleaning crew even got on board!
Be the first to stay on board and book a stay on the improved Gleaming Light Book Now!
Did you find this article useful? Why not visit our Norfolk Broads boating holiday page or browse our fantastic boats for hire for more information on our services?