The Launch of Ruby Light for 2020
Herbert Woods Launches New Cruiser – Ruby Light
Herbert Woods are excited to announce the build of their newest cruiser 'Ruby Light' which was launched last week and has an interesting story behind it.
Leading Norfolk Broads holiday operator Herbert Woods have completed the build of their new holiday cruiser 'Ruby Light' and have launched the brand-new cruiser to its modern and very popular range Elite Fleet. With the current pandemic the build was put on hold for a few months however the team are thrilled to announce the boat going into the water.
'Ruby Light' is a 29-foot, 4 berth compact cruiser and was launched on Thursday 30th July 2020 from their boatyard in Potter Heigham.
Brand new to the fleet 'Ruby Light,' is a small compact cruiser, perfect for couples and first-time boaters. The boat is easy to moor with an in-built bow thruster and a central steering position.
It has all the luxuries you would expect from a newly built modern cruiser, including LCD TV and DVD in saloon and rear cabin, radio with CD playing and USB connectivity, an external shore power connection (where available) and warm air heating system.
'Ruby Light' has a sense of space, style and luxury with an open plan saloon/galley, a split sliding canopy over the saloon which allows each side to be opened independently. The saloon seating converts to provide an additional double bed and there's a rear double cabin, separate family bathroom with a toilet and a shower.
External bow seating is provided to allow you to fish or simply watch the world go by.
When the team at Herbert Woods were planning the build of 'Ruby Light' they were unsure on the name and decided to take to Facebook asking for suggestions. Within a few days of posting they received over '640' suggestions, two of the names were then shortlisted and taken to a poll on Facebook and 'Ruby Light' won 59% of the votes.
When the name was announced and the winner was contacted the Marketing team at Herbert Woods soon heard about the story behind 'Ruby' and why the name was so special.
Ruby lives with her family and suffers with cerebral palsy, her mum Emma wanted to suggest her name in aid of cerebral palsy and how she always shows the light with her beaming smile. The boat 'Ruby Light' is now named and has a green ribbon in aid of her story and her illness.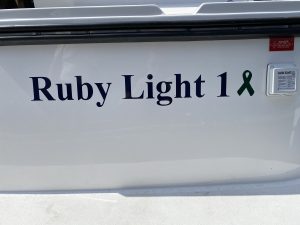 Woods TV asked John Butler, the Chairman of Herbert Woods for a statement of the newly launched Ruby Light, this is what he had to say "Herbert Woods has continued to build and add to the fleet during the Covid-19 pandemic. This stunning 29ft luxury cruiser is perfect for a couple or family, launched on Thursday 30th July via our Herbert Woods webcam and social media, it's a perfect addition to the Elite Fleet".
When asked about the naming of the cruiser John Butler explained "We asked our customer base for help when naming the new cruiser, the interaction through social media was quite unbelievable, with over 600 suggestions we had a shortlist of names and I was delighted to agree the name 'Ruby Light', although Ruby couldn't participate in the virtual naming her sister Lottie named the boat via video link".
John Butler commented about the future of Herbert Woods saying  "The next new boat in build is Gleaming Light 2, a 35ft striking sedan cruiser which is due to be launched late February, available from March 2021. Gleaming Light 1 has been a tremendous success, built to a private build high specification, hirers have enjoyed her in 2019 and 2020 which has been a whole new level of luxury, we intend to continue into 2021 and beyond with a new project in 2022, we are working with a naval architect on a new design for an 8 berth cruiser which I hope to be available in 2022".
Ruby Light is available to hire from 3rd August 2020 as well as being part of their 'Winter Fleet' of cruisers which are available every year in 'February' and 'November'
Sleeping up to four, short breaks (Friday to Monday) start from £465 and seven-night breaks from £664
Herbert Woods continue to invest in building new boats to their ever growing fleet of holiday cruisers – pictures of the new 8 berth cruiser will be shared soon.
To book Ruby Light or for more information visit www.herbertwoods.co.uk or call 0800 144 447
For more information on our boating holidays or if you feel a break on dry land is required then check out our waterside cottages