The Broads for Children
Children of all ages love the Broads with its wide-open spaces and clean crisp air. Whether you have opted for a family boating holiday or are staying on land in holiday cottage, you are sure to have a holiday that your children will remember for years to come.
A holiday on the Broads is an adventure, whether you have come from far away or live just around the corner. Being on the Broads makes you feel as though you are miles from home. The quiet country lanes are great for walking and cycling with children and there is so much to see and do.
Wonder at the Wildlife

The Broads is one of the best places in the UK for wildlife spotting and is home to hundreds of different species of birds, mini beasts and mammals, some of which are exclusive to the Broads. Head to one of the Norfolk Wildlife Trust nature reserves to learn more about the Broads unique habitats and take part in one of their mini beast hunts or wildlife walks. Discover the Wildlife of the Broads
Get Active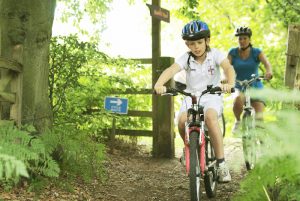 There is a wide range of activities available on the Broads. On land the quiet country lanes and bridleways are perfect walking, cycling or horse riding. Whilst on the water you can try windsurfing, canoeing or stand up paddle boarding.Admiral Lord Nelson actually learnt to sail on the Broads and there are Sailing Clubs that  offer lessons or taster sessions, contact the Broads Authority Information Centres for details. If you have booked a Boating Holiday you can hire a sailing or rowing dinghy to tow behind your cruiser meaning that older kids can go off and explore on their own.Note. These dinghies are also very useful for getting mum and dad to the pub when there are no moorings left.
Discover the History

The history of the Broads is hard to miss, with the traditional wind pumps, churches and ruins. You might even see marsh men gathering reeds in the traditional way as you cruise the rivers of the Broads.The Broads themselves date back to medieval times but the surrounding area can be traced back to the stone age and Queen Boudicca. The Museum of the Broads, Norwich Castle and the Time and Tide Museum all have fantastic interactive experiences for children. They will be so busy having fun they won't realise that they are learning too.
Take to the Water

If you have opted for a Boating Holiday this adds a whole new dimension of fun and excitement to your holiday. To start with you will be LIVING on a BOAT, which means that you are no longer a parent but a Captain and as we all know every Captain needs a crew.On arrival at the boatyard, you will be shown how to drive the boat and the simple checks you need to do to make sure it runs smoothly. This is where the Captain's duties end – the rest is up to your crew.From swabbing the decks, to lowering the anchor (mud weight) and securing mooring ropes, kids love to get involved with the running of the boat. Just make sure they are wearing their life jackets at all times. Children over the age of 14 can even have a go at driving as long as they are supervised by an adult. If you haven't booked a boating holiday, we strongly suggest you hire a day boat, picnic boat or canoe, even if it is only for a couple of hours.  You can't say that you have truly experienced the Broads without getting out on the water.
Be Creative

The limited WiFi on the Broads means that children are forced to find new ways to entertain themselves. Whether it's doing cart wheels on a village green or building sand castles at the beach, kids can be incredibly resourceful at finding ways to have fun. They might just need a little encouragement to get started.Here are a few ideas of things to do on your Broads holiday – see how many you can tick off:
Go on a Scavenger Hunt/Nature Walk
Climb a tree
Learn how to skim a stone
Build a sand castle
Learn a new card or board game
Learn how to tie knots
Become a Broads Explorer

All children who holiday with Herbert Woods receive a Broads Explorer Log Book & colouring pencils on arrival. Containing pages of puzzles and fun facts about the Broads, there is even a 6 day Captain's Log to record where you have been and what you saw each day.Remember to hand your log book in to Reception before you go home to receive your Certificate and become a fully fledged Broads Explorer! Click to download
Attractions for Children
There are also plenty of attractions for children on the Broads that can be accessed by land or water. If you are a Herbert Woods  holiday customer you can save money on attraction entry using your Privilege Card, browse the listings below to see where you can save. Find out more about our Privilege Card.