Herbert Woods, Architect of the Norfolk Broads
Emerging from the quaint corner of Potter Heigham, Norfolk, the legacy of Herbert Woods (1883-1954) still glimmers brightly on the waterways of Britain. His enduring impact on the Norfolk Broads landscape stands testament to his relentless entrepreneurial spirit, creative mind, and a deep-rooted affection for his homeland.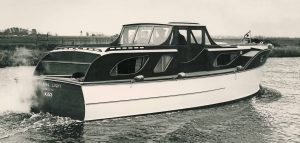 Woods' roots trace back to a lineage of artisans in Norfolk, where he was instilled with a fascination for the scenic Broads and the boat-building traditions. This childhood backdrop ignited a spark that was to light up the waterways of Norfolk in later years.
As a young lad of 14, Woods delved into the boat-building industry, serving an apprenticeship at a local boatyard. As he honed his skills and refined his craft, the foundation for the famous Herbert Woods Company was being laid. His company, established in 1926, became a cornerstone of the boating industry in the Broads.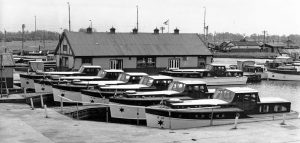 With Herbert at the helm, his enterprise flourished, embodying the ethos of Norfolk boating. Woods was not merely a skilled craftsman; he was an innovator. He revolutionised the boating experience by designing and introducing 'light cruisers,' which were easy-to-handle, motor-powered boats that opened up the Broads to a wider audience. This was a pioneering move that marked the advent of a new era of tourism in the region.
Woods' commitment extended beyond his entrepreneurial ventures. He was a staunch advocate for the Norfolk Broads, ardently promoting and protecting its unique charm. He was a fervent believer in ensuring that the natural splendour of the Broads was accessible to all, and he used his influence to attract interest in this jewel of nature.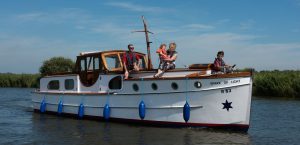 Woods' imprint on the Norfolk Broads goes far beyond his business endeavours or his role in promoting tourism. His tireless efforts have inspired generations to value and conserve the beautiful Broads. Thanks to his vision, the Herbert Woods Company and the Norfolk Broads continue to prosper, delighting visitors with their beauty.
In addition to his love for the Broads, Woods had a knack for competitive boat racing. He was a skilled sailor and victoriously lifted the trophy of the distinguished Three Rivers Race six times. A race that Herbert Woods still enter a team in today!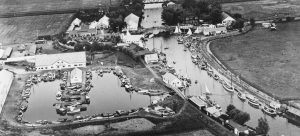 Herbert Woods was not just a businessman or a skilled boat-builder. He was a dreamer, a visionary who saw the potential in the Norfolk Broads and worked tirelessly to make it a place of enjoyment and relaxation. His innovative mind, entrepreneurial spirit, and dedication have shaped the Norfolk Broads into what it is today.
So, as you sail gently through the calm waters of the Norfolk Broads, spare a thought for Herbert Woods. His dedication and passion have preserved this tranquil corner of Britain for us to enjoy, echoing his vision of sharing the beauty of the Broads with all.