The History of 'Spark of Light'
In 2011 Herbert Woods boatyard managed to buy the former Norfolk Broads hire boat Registration no.'B53′ which is now believed to be the oldest of the Norfolk Broads cruisers built at Herbert Woods in Potter Heigham that is still afloat and in use. This is, to the best of our knowledge and belief, the history of this important piece of Norfolk Broads boating heritage.
B53 'Spark of Light' was built by Herbert Woods himself in 1927 in a boatshed just upstream from Potter Heigham Bridge.
Very little is known of her early years, however we do have some idea of what she looked like as she features in "Boating on the Norfolk Broads in the 1930's" a DVD produced by Broadland Memories which shows a family's 16mm home cine film of their Norfolk Broads boating holiday on 'Spark of Light' in 1932. Notice there is no windscreen or wheelhouse, just a solid folding roof with canvas screens to all four sides.
At some point before April 1934 the boat's name was changed to 'Spot of Light'.  We are not sure why, however believe that at some point there may have been a small fire in the galley and Mr Herbert Woods, believing the name 'Spark of Light' to be tempting fate, decided to change it to 'Spot of Light'.
'Spot of Light' along with the rest of the Herbert Woods fleet played an important part in the areas war effort. The fleet was moored on Hickling Broad, rafted together and covered with a tarpaulin to prevent German flying boats from landing.  By the end of the war the fleet was in a sorry state, with many of the boats riddled with bullet holes where they had been attacked by fighter planes. So, Herbert Woods began a programme of rebuilding the fleet. During this time, we know that 'Spot of Light' had a new transom fitted of beautifully figured Cuban mahogany.
It seems 'Spot' underwent a further name change in 1947 this time to 'Shimmer of Light'.  It is assumed that this occurred when the boat was recommissioned post war as this is how she features in the 1947 Blake's holiday brochure.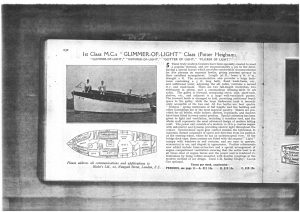 'Blakes Catalogue' 1950's
In 1951 'Shimmer of Light' was fitted with Herbert Woods newly patented 'Broads Haven' Retractable Wheel House. This became a unique feature of all Herbert Woods 'Light Cruisers'.
Sadly in 1954 Mr Herbert Woods died and Mr Lindsay Cutler took over as chairman of the company. Taking a liking to 'Shimmer of Light' Mr Cutler removed her from the fleet and registered her as his own private boat in 1955.
Under Mr Cutler's ownership 'Spark of Light' underwent significant refurbishment. She was painted overall in white, had a new diesel engine fitted, the wheelhouse was fixed so it was no longer retractable, two auxiliary fuel tanks were added to increase her range, davits were fitted to the aft deck so that she could take an outboard dinghy and a 'Dolphin' ship-to-shore radio that was installed in the saloon. Internally the boat was refitted with new galley appliances, including a fridge.  The saloon berths were made to fold up against the sides of the hull and individual armchairs put aboard. Items like the gate leg table were replaced with a new mahogany one.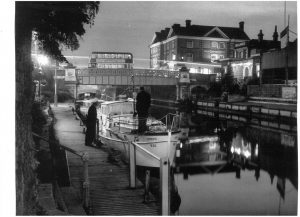 'Norwich Yacht Station' Sept 1960
The purpose of this refit was so that the boat would be suitable for going out to sea.  Indeed, whilst Mr Cutler kept her in one of the wet sheds at Herbert Woods for most of the year, he took regular summer trips in her as far as the Isle of Wight.
When Lindsay Cutler died 'Spark of Light', now known as Cherrie, was sold via C J Broom Ltd to John Whitaker in 1971. John is the father of Michael Whitaker, one of the current Partners of Herbert Woods.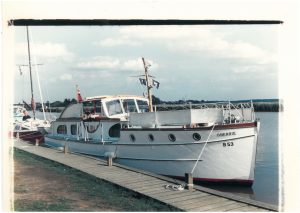 'Reedham' 1980's
'Cherrie' was used extensively by the Whitaker family for 28 years and was once taken briefly out to sea from Yarmouth, even in a relatively calm sea she rolled uncomfortably. Deciding this was not an experience they planned to repeat, all the sea going equipment was removed, except for the tall mahogany mast on the forward coach roof, the equally tall flagpole on the aft deck and the dodgers. Thereby retaining the distinctive look which Lindsay Cutler had created for his craft.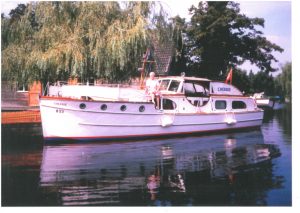 'Brimbelow Dyke' 1990's
In 1999 'Cherrie' was listed for sale with Norfolk Yacht Agency. She sold quickly to Andy Edwards who moved her to Brundall Bay Marina on the southern Broads.  Unfortunately, not long after purchase a storm caused a tree to fall across her front deck, causing extensive damage so 'Cherrie' was relocated to South Walsham for repair and modifications at Russell Marine.
'Cherrie' was not seen afloat again until 2005, renamed 'Shimmer of Light' she had been modified externally to a point part way between how she would have looked in 1955 and how she looked in 1971. The windscreens and wheelhouse had been stripped back to mahogany and revarnished and the patented mechanism to make the wheelhouse fully retractable had been restored.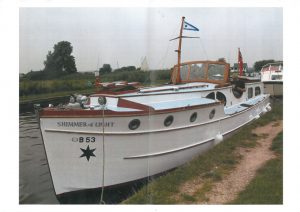 'Thurne Dyke' 2005
'Shimmer of Light' was relocated to Broads Edge Marina in Stalham, it was here in 2011 that she was noticed by Waterside Marine Sales, now part of Herbert Woods. It was clear that she was not being regularly used and, realising the unique opportunity of acquiring the oldest Herbert Woods hire boat afloat, the Partners set out to acquire her. An offer was made to Mr Edwards which was accepted and the boat was returned to Herbert Woods. The boat was immediately renamed 'Spark of Light' and a programme of restoration began.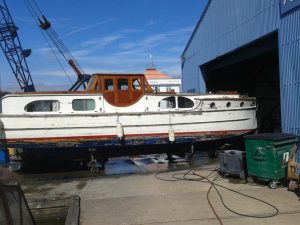 'Arriving back at Herbert Woods' 2011
Since 2011 'Spark of Light' has been used as a promotional tool for the company and has featured in numerous magazines including Practical Boat Owner and Classic Boat Magazine. In 2014, she was showcased at Herbert Woods' Heritage Day attended by HRH Princess Anne.  'Spark of Light' was also the star attraction at the Herbert Woods 90th Anniversary Fete and Water Frolic in 2016.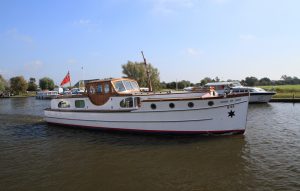 'River Thurne' October 2014
Over the winter of 2016/17 the interior of the boat was extensively renovated, including a full rewire, new headlining and upholstery. Every effort has been made to preserve or replicate the interior in its original style. Modern features such as warm air heating, electric fridge and 240v shore power were also added to make her more comfortable. Spark of Light is now primarily used for PR and showcasing the Boads heritage at local events and regattas. She continues to be moored at Herbert Woods.
Did you find this article useful? Why not visit our Norfolk Broads boating holiday page or browse our fantastic boats for hire for more information on our services?