Staying Safe on the Broads
The perfect location for a lovely 'get away from it all' staycation, the Norfolk Broads is a top holiday destination.
It's understandable why so many thousands of tourists flock here every year. There are beautiful waterways, quirky waterside cottages, fantastic wildlife and inns full of character. And that's just for starters.
The Broads are actually one of the top staycation destinations in the whole of the UK. That's because they are fun as well as relaxing and educational.
We love to welcome new visitors in particular, but we wouldn't be doing our job properly if we didn't drill into you the safety aspects of boating on the Broads. So, to ensure your boating holiday remains stress-free, it's important to take note of the following rules. Here are the main dos and don'ts:
Do always
●      Keep an eye on kids to make sure they don't fall overboard unexpectedly
●      Wear a life jacket when on the boats and while getting on and off
●      Always wear a buoyancy vest if you're taking part in water sports such as paddle boarding or kayaking
Don't ever
●      Go swimming, especially if there are boats nearby (motor boats have a propeller at the rear). There are also strong currents in the water
●      Jump off a boat when it's moving
●      Push a boat with your hands or feet
●      Sit on the front of the boat
●      Navigate at night without lights
Waterway code
Just like there are rules of the road, there is a 'water highway code' too. But, unlike roads in the UK, boating traffic travels on the right-hand side. You may also be restricted to a certain channel in some areas.
Speed limits on boats in the Broads can be anything from 3 mph to 6 mph. Just like a high vehicle and bridges, when it comes to sailing, the same rules apply i.e. make sure you have enough clearance so that the boat will get under without hitting anything.
Due to their zig-zag nature, sailing boats have priority, as @NorfolkPolice explain: "Be courteous to others. Sailing boats have the right of way and can be difficult to manoeuvre so slow down and keep to the right-hand side.
"Give moored boats, small boats and anglers plenty of space and reduce your speed and wash. Boats don't have brakes – they take time to slow down and stop, so think ahead."
Keeping your crew safe
It practically goes without saying that no-one should be intoxicated on a boat. The more you drink, the more risk of falling in, for starters.
And talking of drinking, even water, don't sip the river water. It's not a good idea to splash it on your face either on a warm day in an attempt to cool down. And, on that note, if any part of your body does fall into the water then have a shower soon afterwards. This is especially the case if it's an area where there happens to be lots of algae or scum on the surface. This can be toxic to ingest and can cause skin rashes.
Across our entire fleet of cruisers, the team have now put stickers up highlighting the safety of wearing your life jacket when you're out on the water. The Norfolk Broads is a beautiful place and we want everyone to enjoy the tranquility of the waterways but should the unfortunate happen then wearing a life jacket can help more than you would think,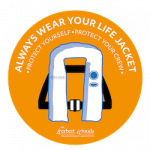 You can find more safety information at our website Herbert Woods here
View all of our safety videos that have been provided by the Broads Authority highlighting all the different situations that could happen and how to prevent them from happening.
Did you find this article useful? Why not visit our Norfolk Broads boating holiday page or browse our fantastic choice of waterside properties by the river and a short drive from the coast?