A Day in the life of Housekeeping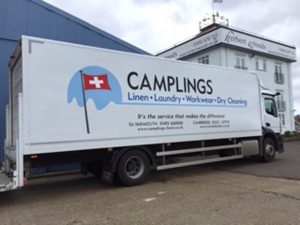 We have a fabulous housekeeping team here at Herbert Woods who are committed to maintaining the high standards of cleanliness that our customers have come to expect.
With such a large fleet of boats, and holiday cottages & apartments too, our team need to work efficiently together to ensure that each property or cruiser is ready on time for our customers. Often a cruiser may be returned at 9am only to go out again at 2.30pm so speed and attention to detail are really important.
Our head of housekeeping Sharon works closely with Reception to ensure she has a up to date list of all the cruisers that are returning & departing each day. Some of the information on her list includes the number of guests on board and how many double/single beds they may need. This is a real help as each cruiser has a pack made up specifically for that stay with the exact number of bedsheets, pillows etc. required.
Our housekeeping team arrive at the yard by 8.30am and head over to their unit where they receive their daily list of cruisers that need to be cleaned. Working in pairs they collect the cleaning packs which include all the bedlinen, kitchen ware, and as such a large range of antibacterial cleaning products they even need a trolley to get them to the cruisers!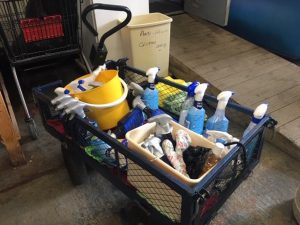 Collecting their lifejackets on the way to the cruisers (always safety first!) the team head onto the cruiser and start off by stripping all the bedlinen.
We send our linen to a local, independent company called Camplings; their modern facility is just a 30 minute drive from us and is one of the most technically advanced and environmentally friendly laundry units in the UK. So, we can ensure that not only our linen is laundered to the highest standards, but it is also making as small an impact on the environment as possible.
Working to a strict checklist the team start in the bathroom ensuring everything is cleaned, disinfected and sanitised ready for the incoming guests. There are lots of different products that our housekeeping team use, almost all of them are able to kill 99.9% of bacteria so we can be confident that our cruisers are safe and clean.
To ensure there is no cross contamination the team use a colour scheme for all their cloths and products. For example, red cloths are used in the bathroom and green for the kitchen – we wouldn't ever clean the kitchen counter with a cloth that had been used to disinfect a bathroom sink!
Once the bathroom is sparkling the team get started in the kitchen, scrubbing out the oven, cleaning the microwave, and disinfecting and sanitising all the surfaces and appliances.
As our kitchens are fully equipped there is a lot of washing up to do as every item from the potato peeler to the saucepans is taken off the boat and brought to our purpose built, industrial scale kitchen. We have huge sanitising dishwashers which ensure every piece of crockery, cutlery and kitchenware is cleaned at temperatures of over 90`C every time the cruiser returns to the yard.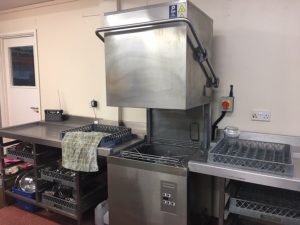 Our industrial dishwasher
When the kitchen is fully re-stocked with all the equipment our guests need, a pack including tea towels, washing up liquid and sponges is placed in the kitchen so our guests can ensure the kitchen stays clean & hygienic throughout their stay.
The teams then work along the interior of the boat, cleaning, polishing & sanitising every nook and cranny.  As they clean, they check nothing is damaged or broken – if they do find something a member of the yard team is called on board to fix the issue.
The floors are hoovered and swept before any laminate flooring is disinfected and scrubbed clean. Finally, the team double check the entire cruiser to ensure nothing has been missed and when they are confident that the cruiser is spotless, they put fresh, clean laundry in each bedroom along with refreshed duvets and pillows.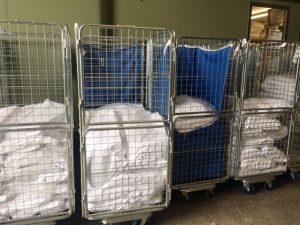 Fresh linen, shrink wrapped & ready for the cruisers
With days when up to 60 boats return and depart from the yard the team have no time to waste and need to head onto the next boat as quickly as possible. However, it is a physically demanding job, so a mid-morning tea & biscuit break is important to help keep their strength up until lunchtime!
To ensure standards never drop each cruiser is then checked by head housekeeper Sharon or one of her supervisors before reception is informed that the housekeeping team are happy with that cruiser. As for the outside of the boat – that is washed, scrubbed and polished by one of our yard staff to ensure it is gleaming before it heads out onto the Broads again.
Even when all that day's cruisers are ready for our arriving guests the housekeeping team still have more work to do! Back inside the housekeeping unit the teams have to restock their cleaning products, get new cleaning cloths, and make up laundry packs for the boats going out the next day.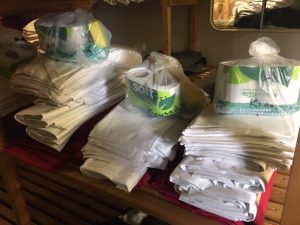 Laundry packs ready for the next morning
Finally, the teams are finished and can take a well-earned rest before doing it all over again the next day!