A Day in the Life of the Life Jacket Team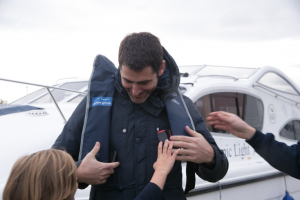 We take safety seriously here at Herbert Woods so before you set out on any of our cruisers or day boats, we ensure you have a professionally fitted life jacket. The Broads are beautiful but can be dangerous if you are not properly prepared, therefore, we encourage all our customers to wear their life jackets at all times.
Our team are ready in the yard by 8am and start off their day by welcoming returning guests back to the marina. Guests are asked to check in at A-Section to return their lifejackets before they head back home.
The lifejackets are carefully checked to ensure they are safe to be re-used following a checklist that includes verifying all the straps and buckles are intact and making sure there are no rips or tears in the jacket. Inside the jacket there is a CO2 canister which, if triggered, causes the jacket to inflate on impact with water; the canisters have green tabs which pop off if the device has been tampered with, so the team always make sure to double check these are in place before they authorise the re-use of the jacket.
After the jackets have passed all the criteria on the checklist, the team clean them with an antibacterial spray and store them ready for the next guests.
While waiting for that day's guests to arrive one of the team will make sure that all of the life jackets we use for our Day Boats and Kayaks are ready to go too, following the same checklist, so we can ensure everyone is safe on the Broads.
In the afternoon the team are ready and waiting to greet the new guests; we have to make sure that all the crew have properly fitted jackets so the team confirm how many crew members will be on board – if guests are joining you during the stay we will give you extra to make sure they stay safe too!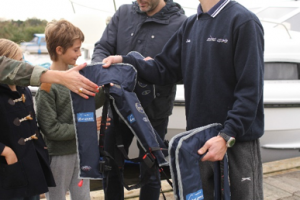 Our team have all had specific training on how to fit the lifejackets so they are effective and safe, we will demonstrate how to wear them and double check they are fitted correctly – you will be wearing them for much of your holiday, so we want to make sure they are comfy.
Plus, if you are bringing your pets along don't worry, we have dog life jackets for sale in our shop so your four-legged friends are safe too!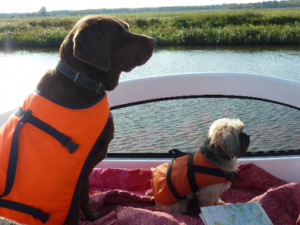 When all the guests have departed with their life jackets on the team get tomorrow's list of returning cruisers ready for the morning and have one last check of A-Section to make sure everything is tidy and they are ready to do it all over again the next morning!