New and Improved Visitor Experience at Ranworth Broad
As one of the Norfolk Wildlife Trusts Investors in Wildlife I was lucky enough to be invited, as representative for Herbert Woods, along to Ranworth Broad this morning to view their renovated visitor centre.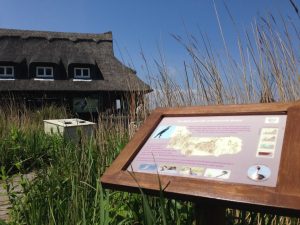 A large amount of investment has been made in both the Visitor Centre and Wildlife Trail. The Visitor Centre now features full length windows along the rear wall with seating and viewing stations overlooking the Broad, complete with binoculars and beautifully illustrated identification boards detailing the wildlife that can be seen on the Broad.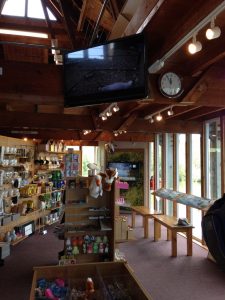 In addition NWT have installed some great interactive media in form of large touch screens through which you can learn more about the wide array of habitats and the wildlife that inhabit them.
The ever popular Tern Rafts have now been fitted with nest cams which stream live into the visitors centre so that it is easy for visitors to view the nesting behaviour.
Upstairs houses more viewing stations, alongside a Family Discovery area. Which has some wonderful interactive activities for children, from look and feel items, to sound boxes, jigsaws and colouring table.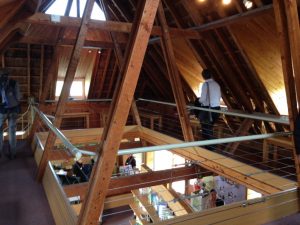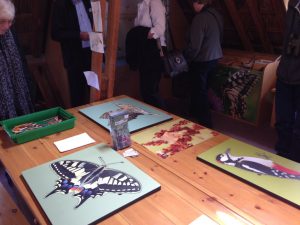 The new interpretation that flows throughout the centre and out along the boardwalks has been beautifully illustrated and blends sympathetically with the natural backdrop. Care has also been taken to not only focus on Ranworth but to provide the information in context with the rest of the Broads and other local wildlife reserves.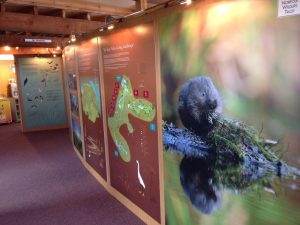 Following a tour of the wildlife trail and centre by Head of People and Wildlife, David North and a short speech and vote of thanks by Chief Executive, Brendon Joyce. We were invited aboard Swallowtail, Norfolk Wildlife Trusts Electric Boat for a tour of Ranworth Broad. Unfortunately there was no sign of the Otters or the Ospreys that sometimes visits the Broads, however there were plenty of Coot, Tern and Great Crested Grebe to be seen and the Cetti Warbler could be heard.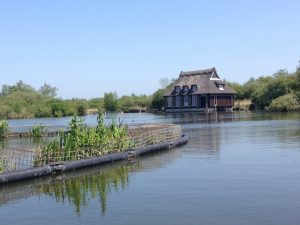 It was also possible to see the new Bio manipulation ring that has been installed, as an experiment to see if it is possible to tip the Broads back to being a plant rather that an algae dominated system. We then ventured out of the Broad and up the river Bure, to view the work that NWT undertakes outside of the Broad. I have to admit that I may have become a little distracted at this point by all of the passing Herbert Woods boats; it was great to see Royale Light, Glow of Light, Broadland Light and Tobago Light all out enjoying the sunshine.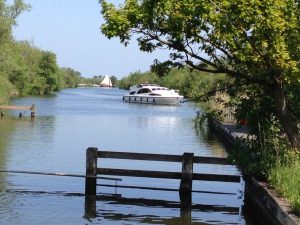 Overall it was a lovely way to spend a morning and great to see all of the valuable work that is going into preserving the Broad and surrounding land for both the wildlife and future generations. Ranworth Broad should definitely make it onto your Top 10 Things To Do whilst on a Broads holiday, and the best thing is that everything except the boat trips can be enjoyed free of charge!
Find out more about  Ranworth Broad or about becoming a member of the  NWT.
Did you find this article useful? Why not visit our Norfolk Broads boating holiday page or browse our fantastic boats for hire for more information on our services?