Norwich: A Fine City (for cycling)
Norwich is a Fine City. Our signs declare it, our people know it, and those who come here – well they don't really like to leave. Many a university students has stepped for into Norwich for their first time for their degree and found themselves staying on much longer than they ever intended.
There's a lot to love about Norwich. It's a reasonable big city with the personality of a much smaller place. There's plenty of shops, lots of restaurants, and rumour has it there was once a pub for very day of the year and a church for every week (so that's at least 365 pubs and 52 churches within the city limits). We haven't counted personally, but it's hard to argue that there are certainly a fair few.
So if you visit Norwich on you Norfolk Broads holidays you know your thirst can be quenched and you can repent easily, but what else it there to do?
Being fine isn't the only thing Norfolk's county town is famous for. As a county, Norfolk is pretty flat. When you step out into the countryside the skies seem to go on endlessly.
It makes it a pretty great place to go out on your bike and do a spot of cycling. You don't need to be a Lycra clad professional in order to enjoy the scenery on a bicycle ride. It's perfect for people of all ages.
Even if you haven't ridden for years you never really forget. Hop on, start to pedal, and away you go. It's just like riding a bike.
Bring your own bike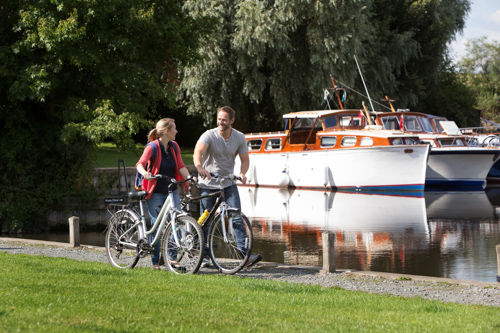 If you plan to cycle a lot you might be thinking about bringing your own bikes. They'll be all set up for you and you'll be used to the gears and any little nuances.
If you're staying in one of Herbert Woods' cottages there are lockable storage units available if you bring your own padlock. Ask about this when booking, as in particularly busy seasons they could all fill up.
If you renting one of our cruisers for a short break or a longer Norfolk Broads holiday, you may need to rent bikes rather than bringing you own. Because the boats are filled will all the essentials to keep you comfortable, there isn't a lot of spare room. However we do offer some cruisers where you can store your bikes on. Look for the cycle icon on the boat details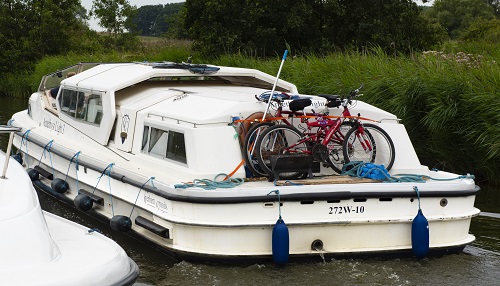 It can be tricky to transport a selection of family bicycles any sort of distance, so this can be a good option even if you're staying in a cottage. rentals are frequently offered for different amounts of time, so if you only plan to have one day cycling you can get into the city and rent your bikes.
Planning your route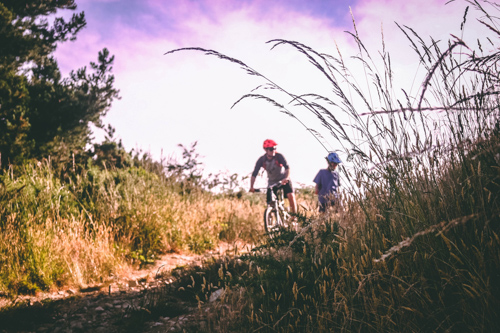 Before you head out on your Norfolk Broads holiday, have a look at some of the cycle routes you can take. The way you can plan sensibly and cycle to other things you want to do, or take in particular sights while you peddle around. There are lots of places of places to secure your bike in the city centre, and we'd always recommend using a high quality D-lock rather than the less effective chain locks to secure your bike.
There are plenty of places online where you can find routes. Print a cycle map of the area before you set off as well so you can get you bearings, and you can alter your plans if you decide to go on more trips. It tends to be weather dependent, but a cooler cloudy day is often the perfect conditions as you won't get too warm whilst cycling.
If you go on a Norfolk Broads holiday and you don't do a spot of cycling in and around Norwich then you'll almost certainly be missing out.
Did you find this article useful? Why not visit our Norfolk Broads boating holiday page or browse our fantastic boats for hire for more information on our services?