Where to Moor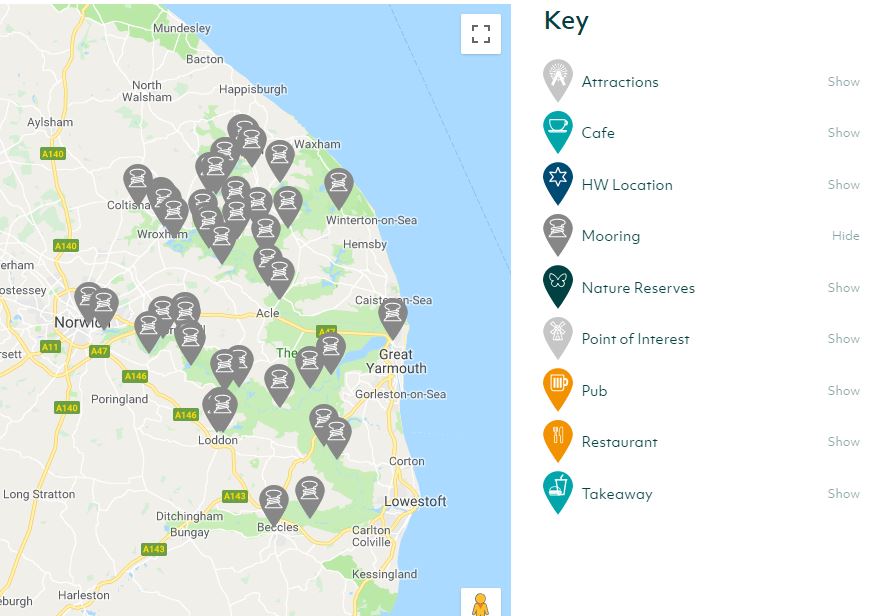 View our interactive map listing more mooring points on the Norfolk Broads, pubs, restaurants, facilities and more….
Free Moorings
Broads Authority Free 24 hour Moorings
There are miles of free 24 hour moorings along the banks and rivers and the open Broads.
Boatyards
Herbert Woods cruisers are able to moor for free in any of the following Hire Boat Federation Boatyards.
Acle Bridge Craft
Brundall Broom Boats, Silverline Marine
Horning Ferry Marina
Loddon Maffett Cruisers, Pacific Cruisers
Reedham Sanderson Marine Craft
Stalham Moonfleet, Richardsons
Upton Eastwood Whelpton (no pump outs)
Wroxham & Hoveton Barnes Brinkcraft, Faircraft Loynes, Summercaft
Fee Payable Moorings
A mooring fee is payable at the following,
Acle Moorings
Port of Yarmouth Marina
Burgh Castle Marina
Horsey Mere, Oulton Broad
Salhouse Broad
Thurne
West Somerton
Norwich Yacht Station
Oulton Broad Yacht Station
Beccles Yacht Station
Great Yarmouth Yacht Station
Pubs
A number of waterside pubs with moorings charge for their usage overnight. The amount is usually about £5 and in most cases redeemable against purchases in the pub. Please see your Privilege Card booklet for special offers on mooring for Herbert Woods customers.
Do Not Moor 
1. Where there are red markers – these indicate underwater obstructions.
2. In the New Cut between Reedham and St Olaves – there are dangerous stakes submerged at high water
3. To navigation posts or buoys except in an emergency – these are only for channel markings and not constructed to hold a boat.
4. To large wooden structures (dolphins) which are for use by ships.
5. Where notices forbid it.
6. Lower reaches of rivers, where the current is very strong and the rise and fall of the tide is very large.
Are you looking for a Norfolk Broads boating holiday? If so, have a look at our entire fleet of hire cruisers.