Finding your perfect cruiser
With so many different types of boat to choose from, choosing your holiday cruiser can seem a little daunting. Here are a few things you should bear in mind before making your decision.
Boat Size
Our boats can sleep from 2 up to 12 people. One of the main decisions when choosing your cruiser is whether you wish to use the saloon for sleeping by converting the seating area into a bed each night.
Steering Position
Dual steering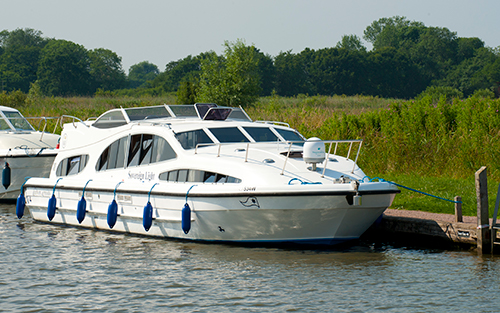 Stylish and modern looking, these boats have an inside forward steering position and an outside steering position on the upper deck. Depending on the particular boat the upper sundeck may feature seating, dining area and sun beds.
However, there will be steps between the two positions which can be difficult for people with limited mobility and the height of these cruisers may mean that you have difficulty fitting under some of the bridges on the Broads.
Front steering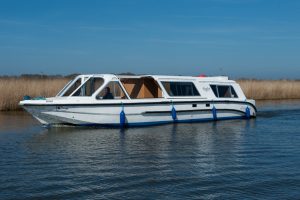 Boats with a forward steering position tend to be on one level, so are great for small children or anyone that has difficulty with stairs. These boats tend to have either a sunroof or full or split sliding canopies over the saloon. These are great to open in good weather but may suffer from draughts in very high winds.
Visibility can be more limited on these types of boats as the steering position at the front means it can be harder to see what the back of the boat is doing when manoeuvring. The low profile of these boats has pro's and con's on the one hand it means that these boats are the most likely to fit under low Broads bridges on the other hand their low position in the water can make it harder to see over any high river banks.
Central steering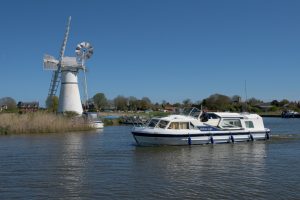 These boats have a raised centre cockpit which offers good visibility around the boat. There is usually some additional seating in a raised saloon behind the helm, which means everyone gets a good view over the river banks.
These boats will normally have a sliding canopy over, which may be manual or winch operated. As with the single level cruisers these boats may suffer from some leakage and draughts around the canopy during very bad weather.
These boats will fit under most but not all bridges as long as the canopy and windscreen are lowered.
Aft cockpit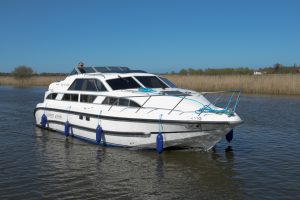 Aft Cockpit boats usually have a rear entrance to the cabin and a folding canvas canopy over the rear seating area which can be lowered for open air dining. It is worth noting that the canopies on these cruisers are usually fitted using press-studs along the outside edge so they can be more time consuming to open/close than a sliding canopy.
As you have to steer these boats from the outside, they are not suitable for use in very cold weather.
Ease of Mobility
The low, single-level forward steering boats are more suitable for those with restricted mobility.
Class
Elite Cruisers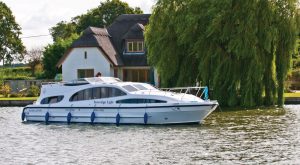 The Elite Cruisers represent the finest cruisers within the Herbert Woods fleet and include our newest boats. Each cruiser has a light and spacious interior and has been finished to the highest standard using quality fixtures and materials. Features you can find on board some of our Elite cruisers are bow thrusters, Free-Sat TV, power showers and granite worktops. Please see individual boat listings for details.
Being an Elite customer also comes with its own benefits including early check in, complimentary parking for up to 3 vehicles and an Elite hamper waiting for you on board.
Connoisseur Cruisers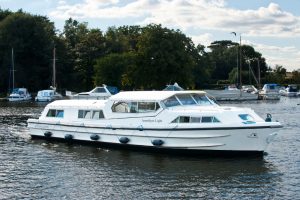 These centre cockpit cruisers are one of the most popular styles of Broads boat ever built. They have been thoughtfully designed with the Broads in mind and have spacious interiors whilst their sleek style means that they are able to fit under the low Broads bridges.
Inside the large sociable saloon that incorporates the driving position and every cabin has an en suite bathroom, making them a great choice for families or groups of friends. The side access also makes accessibility from side moorings much easier.
 Boat Features
All our cruisers are fully equipped to ensure you have a safe, comfortable and carefree holiday, with each craft featuring the following as standard:
240v Electricity
Electricity on board all of our cruisers is supplied by a bank of 12v batteries with a 12v-240v inverter; this supplies the 240v system on board. Please ensure that the mains electrical devices that you bring with you are suitable for 240v and does not exceed 1200w. Any device that exceeds 1000w must only be used with the engine running in neutral in order to limit battery drain.
Unlike main electricity it is not limitless, if you use power without running the engine you will flatten the battery. We advise that you cruise for a minimum 4-5 hours a day to keep the battery charged.
Fully Equipped Galley
The galley on all of our cruisers has with gas cooker & hob and electric fridge, they come equipped with crockery, cutlery, sauce pans and utensils.
Warm Air or Radiator Heating
All of our cruisers operate a warm air or radiator heating system on board.
Bedding
Duvets Pillows and linen are supplied. Extra bedding for your stay can be provided at a small additional cost. You are welcome to bring your own blankets or extra bedding.
Entertainment
Each boat has a digital television, radio and CD player onboard
Deck gear
Including a boat hook, life belt, anchors & ropes.
Safety
All boats are fitted with a life ring, smoke and CO alarm, fire extinguisher, fire blanket and smoke and CO alarms. We also provide life jackets and buoyancy aids for all passengers.
Additional Features
Some of our boats also include the following extras to make your stay even more comfortable. Please check the individual cruisers 'key features' for more details.
Bow Thrusters
Often found on the larger or more modern cruisers. Bow thrusters are additional propellers located at the front of the boat, either side of the bow. These are usually operated by a joy stick style control at the helm. When activated they will push the front end of the boat left or right, aiding manoeuvrability.
Some cruisers will feature both bow thrusters (at the front) and the stern thrusters (at the back), this makes manoeuvring even easier as it is possible to push the entire boat parallel to the left or right. Perfect for getting into tight mooring spaces. It is also possible to pivot the boat on itself which is handy for turning in tight spaces.
The boats that feature Bow and/or Stern Thrusters can be identified by the symbol in the key features.
External shore power connection
In addition to the battery and inverter, some of our cruisers also feature an external shore power connection. This connects to the cruiser at one end and an electricity point at the other.
If you choose a cruiser that has a shore power connection we recommend that you use this whenever possible as this will supply your power and charge your batteries at the same time, without running the engine. The Skippers Manual on board each cruiser provides instruction on how to use the external shore power connection.
External shore power will be listed in the cruisers features.
Microwaves
Microwaves are available free of charge across most of our cruisers. However, these do need to be requested in advance either over the phone before you arrive or by using the online My Account facility; the microwave tick box is located under Extras.
If you do decide to have a microwave please be aware that they use a lot of battery power during operation. So it is necessary to run your engine in neutral, whilst the microwave is being used, in order to limit battery drain.
Are you looking for a Norfolk Broads boating holiday? If so, have a look at our entire fleet of hire cruisers.