Circular Walk around Surlingham
This walk has two different starting points – one for boats (which is the Ferry House) and another for cars, cyclists or pedestrians (which starts by the Parish Church). The walk completes a short circuit around the stunning Church Marsh Nature Reserve, follows a beautiful section of the River Yare and also visits the enigmatic ruins of St Saviours Church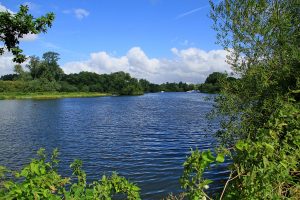 This walk has two different starting points – one for boats (which is the Ferry House) and another for cars, cyclists or pedestrians (which starts by the Parish Church). The walk completes a short circuit around the stunning Church Marsh Nature Reserve, follows a beautiful section of the River Yare and also visits the enigmatic ruins of St Saviours Church. The Nature Reserve is home to a vast selection of wildlife and flowers including tiny Reed Warblers and birds of prey like the Marsh Harrier. Overlooking the Nature Reserve are the crumbling ruins of St Saviours Church which was built in the 12th Century and in regular use up until 1705 before it fell into disrepair. The remaining Church, St Mary's, is less than half a mile from the ruins and is one of only 124 existing round tower churches in Norfolk.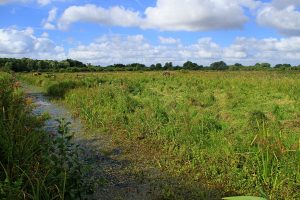 1) From the Ferry Inn you need to follow the riverside footpath to the South (if standing by the river and looking at the Ferry House it would be to the right). This footpath is easy to follow and stays close to the rivers edge. Stick on this footpath as it takes you through Church Marshes Nature Reserve (there is a hide along here to observe the wildlife from) and along the river until the path turns left and away from the water.
2) Turn left to follow the footpath away from the river for about 300m where you will arrive at a trackway by the church (this is where people arriving by car will start from). Turn left to follow the footpath along the edge of the church yard and continue until the path turns left, just by the ruins of St Saviours Church.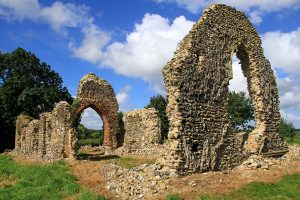 3) Do take a look around the ruins as they are beautiful, but to continue the walk you need to follow the track round to the left and then to the right which takes you along the edge of the marshes. You need to stick on this footpath as you follow the edges of several fields to the North East. Eventually you will come out to a road. Turn left and follow the narrow lane back to the Ferry House.
Route and photographs supplied by Joe Jackson