Norfolk Broads Fishing Holiday
With the Norfolk Broads being dubbed `Britain's Magical Waterland', it's no surprise to learn it is an angler's paradise.
One of the UK's National Parks, the Broads boasts the Country's largest protected wetland, with a unique mosaic of lakes and rivers.
The course fishing season recently started and runs until 14 March, so now's the time to `tackle' you holiday planning if you want to have a `reel' good time.
The Norfolk Broads is home to a wide range of fish species, including bream, carp, eel, pike, rudd and tench, and offers fishing for all levels of anglers.
To fish on the Broads you must have a current Environment Agency rod licence, available from the post office or online.
Fish from the bank, a boat or use fishing platforms, some of which are wheelchair accessible, and many are free – just ensure that you have permission to fish on privately owned Broads or river banks.
On certain Broads no fishing is permitted because they are protected conservation areas and are signposted (and, of course, never discard fishing tackle, as it can easily harm wildlife).
Whether you're holidaying on one of our boats, or staying in our waterside cottages – or perhaps in our newly opened accommodation at Herbert Woods tower – you'll soon be hooked on fishing in the Broads.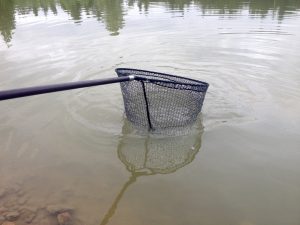 Our new Herbert Woods tower apartments come with a free fishing boat with outboard motor, as we're sure they will appeal to keen anglers.
While you're here, we suggest you visit AJB Angling, one of our Loyalty Partners offering discounts to our customers.
It is situated on the River Ant at Ludham Bridge, with plenty of free moorings, the shop is ideal for tackle, bait and fishing accessories at competitive prices, and a good selection of fishing related gifts.
Close to us at Potter Heigham is the village of Hickling, where a newly refurbished public staithe opened on 27 June. Hickling is the largest of the broads and offers anglers some of the best pike fishing in the area.
Major structural and landscaping improvements at Hickling mean there are now state-of-the-art launching facilities and an information board, telling visitors about the history of the village, pike fishing and amenities.
We're sure all anglers, whether experienced or first-timers, will fall hook, line and sinker for the Norfolk Broads … but, hey, we're just fishing for compliments.
Herbert Woods cottages and apartments are perfect for your next fishing holiday. Contact us on 0800 144 4472 for more information and to book.
Click here to find out everything you need to know about fishing on the Norfolk Broads
If you are casting your net around for ideas, here are a few websites to check out:
http://www.visitthebroads.co.uk/discover-the-broads/wildlife-in-the-broads/angling
http://www.norfolkbroads.com/explore/the-fishing-guide/
https://www.gov.uk/government/publications/environment-agency-rod-fishing-byelaws-anglian-region
Did you find this article useful? Why not visit our Norfolk Broads boating holiday page or browse our fantastic boats for hire for more information on our services?