A Review of Fishing on the Broads
I've been fortunate to get around some of the most beautiful areas of the UK during my seven years in the news team of the Angling Times but one that had eluded me until recently was The Norfolk Broads.
Man-made, commercial waters are my usual choice for a few hours fishing but I was determined to push myself out of the comfort zone and arranged a trip to the quaint village of Potter Heigham.
Sitting on the banks of the River Thurne, the fishing opportunities were a million miles away from the carp dominated lakes and pools I usually visit, with inside info suggesting that roach, bream, skimmers, big perch and pike were the dominant species.
With a drive of over three hours from my Leicestershire base, it was a no-brainer to secure accommodation in the area and a quick scour of the internet soon drew my attention to the Herbert Woods base. Numerous picturesque cottages sat around the edge of the boat yards, but it was the refurbished apartments that took my fancy. After all, if the other half and her parents were comfortable and happy on the sofa in a warm and spacious environment, there was no doubt I would get more time on the bank!
My first day's fishing was close to the bridge in Potter Heigham and with a steady flow running throw the swim, I opted to use a simple ground bait feeder and maggot hook bait setup. I wasn't sure what to expect – would my lack of experience on such venues show or would things click in to place? Time would tell!
Thankfully, the latter proved correct, with double figures of roach and hand sized skimmers coming in just a short stint. If someone as out-of-tune with river fishing such as myself could catch that, I daren't dream what a seasoned expert would put together!
During the long weekend I also experienced similar sport at a spot in Ludham and to say I enjoyed breaking away from my normal angling routine would be an understatement. It certainly made me realise I am missing out when it comes to targeting the hundreds of miles of natural waterways that our country has to offer.
But once the fishing was done and dusted the local area certainly didn't leave me bored. A good range of country pubs – the Kings Arms in Ludham and the Falgate Inn which is a short walk from the base – certainly helped wet our taste buds and gave us meals that left us salivating as soon as the plates hit the table!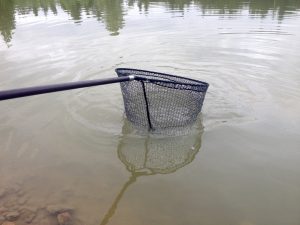 The day boats also offered us the opportunity to make our way around The Broads system itself. Driving a boat may sound daunting to someone who has never ventured on to the water in anything more than a pedalo but believe me – you are missing out if you don't have a go! The boats are simplicity itself – the steering wheel goes left and right, the lever makes you go faster when pushed upwards – there really is nothing more to it.
Finally, Potter Heigham is only a short drive away from coastal towns such as Cromer and Great Yarmouth – the ideal place to put your bucket and spade in to action!
If you've never been to The Broads before then I can honestly say you are missing out. Give it a try – you won't be disappointed.
Photographs courtesy of Angling Times.
Herbert Woods cottages and apartments are perfect for your next fishing holiday. Contact us on 0800 144 4472 for more information and to book.
Click here to find out everything you need to know about fishing on the Norfolk Broads
Did you find this article useful? Why not visit our Norfolk Broads boating holiday page or browse our fantastic boats for hire for more information on our services?