Great Canal Journeys – Boating on the Norfolk Broads
In Season 8 of their popular television show, Great Canal Journeys, Timothy West and Prunella Scales leave the canals behind and head to the Broads National Park.
Setting out from Hoveton, Tim and Pru chose vintage Norfolk Broads boats Lady Christina and Water Rail as their craft for the trip. The younger sister to our own vintage cruiser Spark of Light, Water Rail, was built by Herbert Woods here in Potter Heigham in 1933 and formed part of the Herbert Woods hire fleet under the name Delight VII until 1965 when she was sold into private ownership.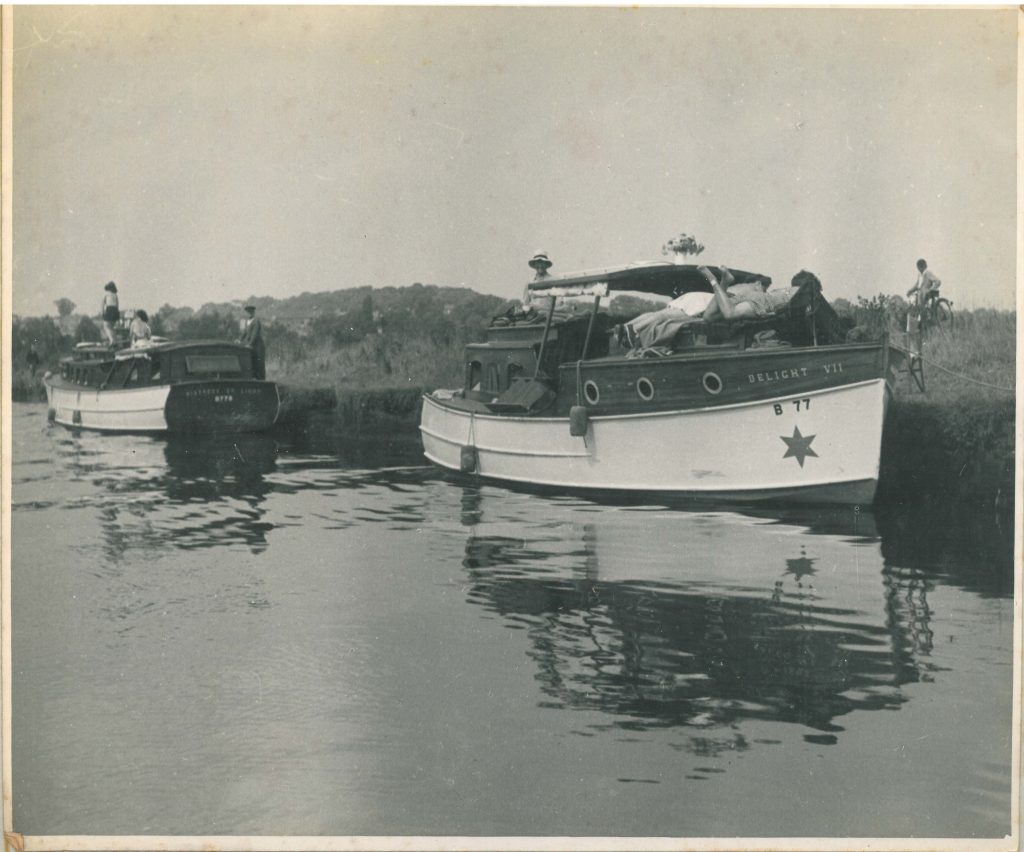 Delight VII now Water Rail
During their week exploring the Norfolk Broads, Tim and Pru journeyed from Hoveton past the pretty riverside village of Horningalong the River Bure before heading up the River Ant to How Hill, where they discover more about the unique environment of the Broads and enjoy a guided trip on board the Electric Eel and the Norfolk Wildlife Trust reserve at Barton Broad, a haven for Broads wildlife including Kingfishers, Otters and Heron.
The following day sees the couple head to Great Yarmouth, a traditional British seaside resort where you can enjoy fish and chips on the pier, enjoy the amusements or learn about the towns rich maritime history at the Time and Tide museum.
Having navigated the Breydon water the next stop is the Saxon Shore Fort at Burgh Castle, built in the 3rd century as part of the Roman coastal defence network to protect against seaborne raiders. Three of the imposing stone walls are still intact, reaching almost to their original height making Burgh Castle one of the best preserved Roman monuments in the country.
The final stop on their journey before retracing their way back to Hoveton is the village of Reedham, home to Reedham chain ferry, the Humpty Dumpty Brewery and Petits Animal Adventure. Follow Tim and Pru's Full Itinerary.
If Tim and Pru have inspired you to try a Boating holiday on the Norfolk Broads, search for your Norfolk Broads Holiday or take a look at our fleet of Norfolk Broads Hire Boats alternatively enjoy a day out on the Broads on board our wooden 1920's cruiser Spark of Light .
Find out more about the Norfolk Broads and discover why a Great Broads Journey is better than a Great Canal Journey.
Did you find this article useful? Why not visit our Norfolk Broads boating holiday page or browse our fantastic boats for hire for more information on our services?
SaveSave