It's National Pet Month
We're Prepared for Pet Month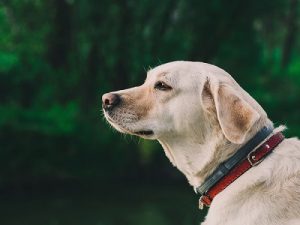 From the 1st April to 7th May 2018, we're celebrating National Pet Month along with animal lovers everywhere. The perfect opportunity to give our furry friends the recognition and the appreciation they deserve, this month-long animal extravaganza sees a number of exciting events take place around the country.
Here on the Norfolk Broads, we're celebrating by giving pet owners the chance to bring their four-legged friends along for free on boating and cottage breaks taken during this period. Simply find your perfect break online and then call us on 0800 144 4472 to book quoting PetsGoFree! What's more, we'll make a donation to the Dogs Trust for every break booked. To help ensure you have a fantastic trip away with your pet, we've put together a few tips and recommendations for pet-friendly holidays on the Norfolk Broads.
Finding pet friendly accommodation in the Norfolk Broads
As we know that leaving your pet behind when you head off on holiday isn't easy, we've made sure that a good selection of our boats and holiday homes are pet friendly. In fact, you can choose from over 60 cruisers and cottages when booking your pet-friendly escape, ensuring there's a holiday perfect for you.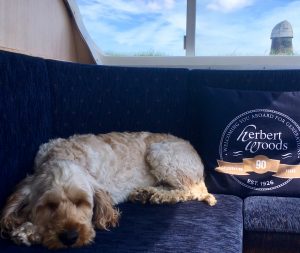 Keeping your pet safe on boat trips on the Norfolk Broads
If you decide to book a pet-friendly boating holiday on the Norfolk Broads for your family, there are a few things you need to do to ensure everyone stays safe and sound for the duration of your getaway. If you're travelling with a dog, you'll need to get a lifejacket that fits them snuggly that they can wear whenever they're on board. We may be able to help you find the necessary safety equipment for your pet, so get in touch with us when booking your break to find out more.
Although most of the people who come to the Broads on pet friendly breaks travel with a dog, we actually accept animals of all shapes and sizes. If you're bringing your parrot, tortoise or even your hamster along, you'll just need to make sure that they're safely tucked up in their enclosure and can't get themselves into any trouble.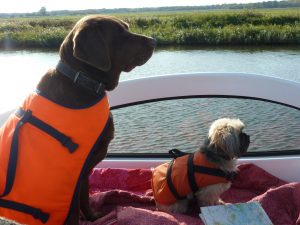 Dog friendly pubs on the Norfolk Broads
There is a fantastic choice of dog friendly pubs available in and around the Norfolk Broads, giving you a good selection of places to stop and refuel when you're out exploring the area. The Ferry Inn Restaurant in Horning, The White Horse Inn in Neatishead and the Fur & Feathers near Salhouse Broad are some of our favourites, but most pubs in the area will accept well-behaved dogs so why not get out and explore? See our full list of Pet Friendly Pubs on the Broads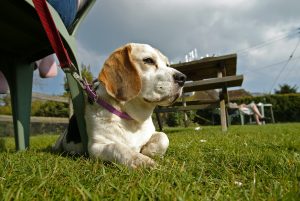 Responsible pet holidays on the Norfolk Broads
Whenever you're out and about on the Broads, remember to keep your eyes peeled for signs telling you if dogs need to be kept on leads or if they're restricted to certain areas. It's also very important to clear up after your dog. Bins are dotted across the Broads and are located at most moorings.
To find out more about pet friendly breaks on the Broads, or to book your break, visit our dog friendly boating page or our pet friendly cottages, Bittern, Mallard & Broadlands or get in touch with a member of our team on 0800 144 4472.
Did you find this article useful? Why not visit our Norfolk Broads boating holiday page or browse our fantastic boats for hire for more information on our services?
SaveSave