What Happens in Winter!
You may think that it's a quiet time after a busy cruising season which runs from February to November, but some real hard work begins on every single boat – over 125 in fact, which are put through their paces for some extensive winter maintenance ready for the next season.
In just two months (and usually the two coldest two!), nearly ten thousand man hours are spent to ensure every single one of our 125 boats are ship shape!
What do we do then?
Clear the decks!
First the cleaning team go on board and de-rig the boats such as removing skipper manuals, curtains, galley equipment and deck gear.
Winterisation

Boats are then winterised by our engineers which includes actioning a hefty 57 point task list including draining water systems and a full engine service.
Get the boats out of the water
The boats are taken out of the water and the hulls are pressure washed and moved into the buildings so they are in place ready for work to commence. There can be up to 17 boats at one time in just one workshop!
Quality Control
Every single cruiser undergoes a complete quality inspection with repairs or improvements detailed that need to be made to the craft which are given to the engineering, boatbuilding and upholstery teams for the work to be completed.
Exteriors
Whilst boats are out of the water they are subjected to;
Exterior polish or paint
Application of anti-foul applied (hull protection)
Windscreens and windows repaired or replaced
Rudders checked and tightened if required & painted with a red oxide primer to protect the metal against rusting
New mooring rope and fender ropes attached
Interiors
Boats are put back in to the water and it's time for the cleaners to go on board to give them a complete spring clean which involves cleaning every surface such as walls, floors, cupboards & drawers, bathroom & windows, if it's in there, it gets cleaned!
Following quality control action points taken, everything is put back on board such as curtains, mattresses, cushions, cutlery, crockery and pots and pans. Each year as part of the winter maintenance programme the upholstery team can sometimes make up to 300 new curtains and replace up to 100 mattresses!
The boat is then all ready for the new season and its very first outing of the year!
In the office
All the skipper's manuals have an update if needed and a full reprint and lamination of over 6000 pages across the fleet! Once completed the manuals are put back on the boats ready for a new season. Customer arrival packs are made up ready for our customers checking in. It's a busy time for sending our next season brochure out and come January, our phones are non-stop taking customer bookings!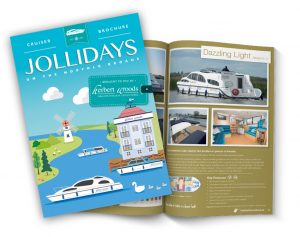 The winter months really are just as exciting as the summer but it has to be said we really do like seeing our customers start arriving and seeing all that hard work rewarded by satisfied customers!
To book a boating or cottage holiday with Herbert Woods call us on 0800 144 4472 or visit herbertwoods.co.uk
Did you find this article useful? Why not visit our Norfolk Broads boating holiday page or browse our fantastic boats for hire for more information on our services?