Winter Boating Holidays on the Norfolk Broads
Winter boating holidays, with crisp air, peace and tranquillity, some of the most stunning sunrises and misty mornings with the still water reflecting the stunning landscape. Taking the opportunity to watch and photograph the undisturbed wildlife and the rare sightings of birds that appear in this migratory time frame. It also helps that prices are at a low.
Winter Boating Holidays on the Norfolk Broads
When you're thinking of a Norfolk Broads boating holiday, the images in mind are usually of blue skies, warm sunny days, resting outside a waterside pub and watching the world go by.
However, many choose to opt for a winter boating holiday, with crisp air, peace and tranquillity, some of the most stunning sunrises and misty mornings with the still water reflecting the stunning landscape. Most go to at this time of year just to watch and photograph the undisturbed wildlife and the rare sightings of birds that appear in this migratory timeframe. It also helps that prices are at a low.
Those who partake in boating holidays at different times of the year would agree that you only can truly know the Norfolk Broads if you've seen it in the varying seasons. According to the Norfolk Wildlife Trust, February sees the first stirrings of spring. They say in tree-holes and nest-boxes tawny owls may already be nesting whereas Mistle thrushes begin to shout from the tops of trees and in the reeds Cetti's warblers plink merrily.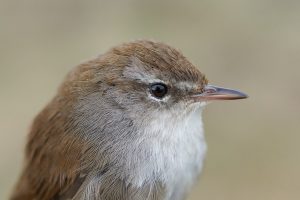 There are plenty of things to do on the Norfolk Broads in Winter, in fact most activities can be enjoyed all year round. With fewer boats on the water, finding a mooring is easy to allow you to explore the area.
Fishing
If fishing is your thing this is the perfect time for a Norfolk Broads fishing holiday as the pike fishing season is in full swing. With a fishing tackle shop just a stone throw from reception at Herbert Woods you can purchase fresh bait for the day.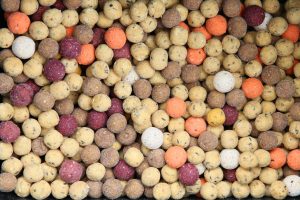 Walks
There are over 150 miles of footpaths to enjoy including many circular ones that can be easily accessed from moorings – visit the website to view many of the detailed walks available.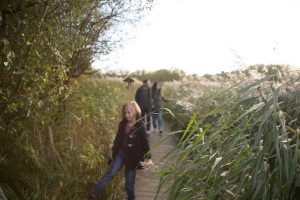 Wildlife
As bankside vegetation has died back, you might be in with a good chance of spotting otter's early morning and evening.
On a bright winters day you might spot drakes with their vibrantly coloured plumage looking to attract a mate. Wildfowl are present in their highest numbers at this time of year with a wide range of species to see.
If you choose to step off the boat, then we'd recommend a visit to Horsey to see the hundreds of seals with their pups.
Bird watching
Bird life is in abundance in Norfolk in winter, not just the quantity but the quality because of unusual migratory birds such as the pink-footed geese who have travelled down from Greenland and Iceland in these winter months, more than a third of the world's population of this species spend the winter in Norfolk.
Starlings are known in this part of the world for putting on amazing roosting displays before settling in reed beds and it's not unusual to see a hundred Marsh harriers at Hickling Broad flying in to roost at sunset.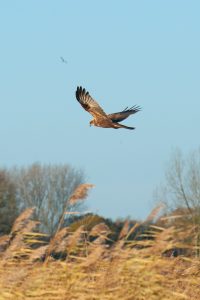 A small number of our hire boats (tide dependent) are lucky enough to pass under the bridge at Potter Heigham giving access to Horsey Mere. Hickling Broad, National Nature reserve, the largest of the broads. Marsh Harriers roost in large numbers here. It's worth noting that you may have to moor up just outside of these areas due to Natural England protecting waterfowl at this sensitive time of year.
According to the Norfolk Wildlife Trust, a Barn owl is almost guaranteed to be seen and you may see kingfisher if you are lucky. Interesting mammals include the introduced Chinese water deer, red deer and hard-to-see otters.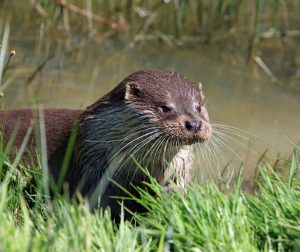 Cycle routes 
8 of the 30 cruisers available for hire in winter can carry bikes, look out for the 'Bring your Bike On Board' logo in the brochure or gives a call on 0800 144 4472 to find out which of our cruisers are bike friendly.
If you don't bring your own bike, there are a number of bike hire options available across both the Northern and Southern Broads listed on our website. On the same page, we feature many cycle routes.
Pubs & places to eat
Waterside pubs with roaring fires and warming hearty food are a delight to visit during a winter boating holiday. Visit our places to eat page on our website with a range of places to visit and a downloadable guide.
When holidaying with Herbert Woods we've teamed up number of local pubs, restaurants and attractions to bring you exclusive offers and discounts – we'll issue you with a privilege card on your arrival along with a booklet detailing all of the offers available. The Ferry Inn at Horning is a very popular choice with 10% off food. Overnight mooring is also available. Lion Inn at Thurne just 20 minutes from Hebert Woods Marina offers great food, drink and ample moorings, many choose to spend their last night here instead of heading back to the boat yard to stay overnight.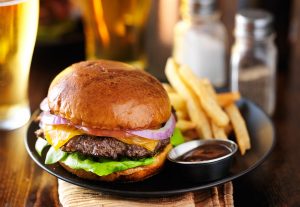 Visitor attractions in Norfolk
Fancy a day off from boating? There are so many attractions open all year round and too many to list but you could visit Fairhaven Woodland and Water Garden at South Walsham, Norwich Castle, Barton House Railway or Wroxham Barns.
Hiring a boat on the Norfolk Broads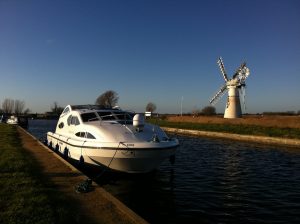 In February we operate a fleet of 30 boats suitable for a winter boating holiday.
Boats available to hire can sleep anything from 2 people to 8 + 2 which is 4 separate cabins and a convertible seating area.
There are a variety of steering positions on the cruisers which you may wish to consider and some are low – level cruisers which make them more suitable for those with restricted mobility.
Read our guide for choosing the perfect cruiser for you.
Check out a list of itineraries on our website to give you some ideas of fantastic places to visit on your boating holiday.
It's worth checking out the Broads Authoritywebsite for the 60 free places to moor across the broads, those with electric mooring points and waste disposal facilities.
Another site worth a visit is www.visitthebroads.co.uk with a whole host of helpful hints and tips for your stay.
All boats do have heating and when moored, guests can access electric hook-ups for heating, so no engines need to run.
All boats have a TV and DVD player – cosy up at night with a hot chocolate or tipple of choice and watch your favourite movie or play cards and board games.
Don't forget to pack warm coats, hats and gloves, walking boots, wellies, gloves, torch, hot water bottle and sunglasses for those sunny winter days! Sun cream and lip balm – believe it or not, it's possible to get sun and windburn during winter!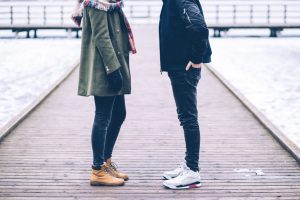 Day boats & picnic boats are available all year round and operate Monday–Friday 9am-4pm during winter months. Day boats can be hired by the hour and picnic boats can be hired by the day.

Take advantage of our 20% Winter Holiday discount and save on your winter boating holiday on the Norfolk Broads.
Call us on 0800 144 4472
Did you find this article useful? Why not visit our Norfolk Broads boating holiday page or browse our fantastic boats for hire for more information on our services?
SaveSave