Herbert Woods announce purchase of 'Admiral' and 'Emperor' Cruisers
Two Norfolk Broads holiday companies Herbert Woods and Crown Travel Limited have today announced that the directors of both companies have entered into a transaction whereby Herbert Woods will purchase 30 of the 'Admiral' and 'Emperor' cruisers currently operated under the Le Boat brand name.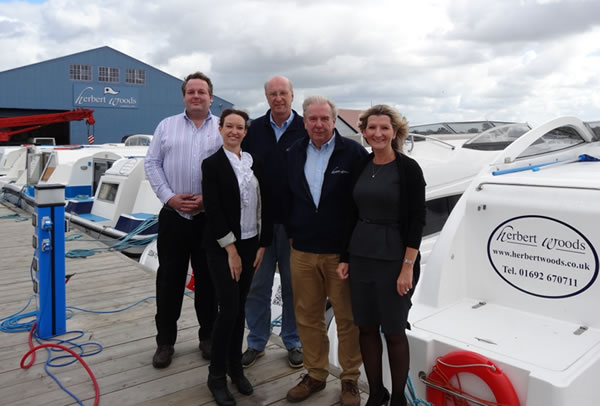 The 'Admiral' and 'Emperor' cruisers were originally built by Porter and Haylett, in Wroxham, and formed part of their successful Connoisseur fleet. Sleeping 4 to 6 and 6 to 8 respectively both styles of cruiser feature central steering positions and central saloon with sliding canopy. The low level design of these boats makes them ideal for passing underneath the low Broads bridges.
The acquisition of these boats will see the Herbert Woods fleet increase in size from 123 boats to 153 however the aim of the transaction was not to grow the overall size of Herbert Woods fleet. "The acquisition of these cruisers has given us a fantastic opportunity to enhance our existing fleet with 30 cruisers of a modern and original design. However, we have no intention to expand the overall size of our fleet in the long term and as a result we will be selling an equal number of the existing Herbert Woods fleet over the next two years." said Michael Whitaker, Partner at Herbert Woods.
In addition to the sale agreement, the two companies have also entered into a distribution agreement that will see Le Boat act as a Global Booking agent for Herbert Woods within. Le Boat will offer both the 'Admiral' and 'Emperor' cruisers plus the Herbert Woods Elite fleet of cruisers to customers outside of the UK. Herbert Woods Marketing Director Amanda Walker said "We are very excited to have Le Boat operating as our global booking agent as it will allow Herbert Woods access to new overseas markets with an established agent who is a member of the TUI group."
Herbert Woods will take ownership of the boats at the end of the 2013 season and the cruisers will be available in Herbert Woods 2014 brochures under the following names,
'Admiral' – Glow of Light, Radiant Light, Silver Light and Western Light
'Emperor' – Amber Light, Amethyst Light, Crown of Light, Emerald Light, Sapphire Light and Tranquil Light
Photo, from left to right: Mark Roding, Regional Operations Director Le Boat; Amanda Walker, Marketing Director Herbert Woods LLP; Michael Whitaker, Partner Herbert Woods LLP; John Butler, Partner Herbert Woods LLP; Cheryl Powell, Managing Director Le Boat
Did you find this article useful? Why not visit our Norfolk Broads boating holiday page or browse our fantastic boats for hire for more information on our services?
SaveSave
SaveSave