Why the Catch Fleet Boat is Your Perfect Fishing Companion
The Norfolk Broads, a network of rivers and lakes in the East of England, is renowned for its serene beauty and abundant fishing opportunities. Whether you're a seasoned angler or a novice looking to try your hand at fishing, the Norfolk Broads offers something for everyone. From pike to beam, roach, and many other species, the Broads are a haven for fishing enthusiasts.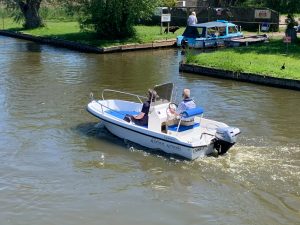 Now, when it comes to fishing on the Broads, the vessel you choose can make all the difference. Here's why one of Herbert Woods' Catch Fleet boats is the ideal craft for your fishing adventure:
1. New and Designed for Fishing
The Catch Fleet boats, introduced in 2021, are specifically designed for fishing. Their 14ft size with walk-around decks ensures that you have ample space to move around, cast your line, and enjoy the thrill of the catch.
2. Accommodates Up to Four Passengers
Whether you're planning a solo fishing trip, a day out with a buddy, or a small group adventure, the Catch Fleet boat has got you covered. It can comfortably take up to four passengers, making it perfect for a family outing or a group of friends.
3. Easy Manoeuvrability with Outboard Motor
One of the key features of the Catch Fleet boat is its easy manoeuvrability. Equipped with an outboard motor and fuel for the day, navigating the Broads becomes a breeze. Whether you're exploring new fishing spots or simply cruising, the boat ensures a smooth ride.
4. Safety First
Safety is paramount when on the water. The Catch Fleet boats adhere to this principle by requiring at least two adults on board at all times. Life jackets and a full demonstration of the craft are provided.
5. Discover the Best Fishing Locations
Not sure where to start? Herbert Woods provides a handy Fishing Locations Norfolk Guide to help you find the best spots on the Broads. Plus, you can download a Day Boat Map to plan your journey.
6. Affordable Pricing
Fishing on the Norfolk Broads doesn't have to break the bank. With competitive pricing for both half-day (4 hours) and full-day (8 hours) rentals, you can choose a package that suits your needs and budget.
In conclusion, if you're looking to make the most of your fishing experience on the Norfolk Broads, the Catch Fleet boat from Herbert Woods is the perfect choice. It combines functionality, safety, and affordability, ensuring that your fishing adventure is nothing short of memorable. So, gear up, hop on board, and let the fishing begin! If you are looking for more tip for fishing on the Norfolk Broads click here