Fishing Equipment Guide: The Norfolk Broads
Don't get caught out with the wrong fishing equipment. Whether you're hiring, purchasing in advance, or just need a checklist to pack for your fishing trip to the Norfolk Broads, this guide won't leave you high and dry!
To the inexperienced eye, freshwater fishing is an activity that seems to require a large amount of complicated equipment. From the huge range of fish baits and lures, to rods and other essentials, people new to angling could find themselves spending a lot of money on equipment that they won't need.
This guide takes the beginner through the essentials for a successful first fishing trip to the Broads, including rules and etiquette tips, so that even the newest angler can bring home photographs of their best catches.
As well as selecting the right fishing spot, the types of lines, weights, hooks, baits and lures you use will vary depending on the types of fish you are looking to catch.
Because this is a beginners' guide, it will mainly focus on the equipment required to catch roach and bream. But do take a look at our guide to the fish species of the Broads to decide which other species you could fish for during your trip.
Methods
Float
There are many types of float available but the waggler is the most popular because they are simple to set up and work with all types of bait. There are a number of sizes depending on the type of fishing you are doing, so it is best to have a selection in your tackle box.
Smaller fish or still waters will only require mini or insert wagglers. Depending on the current, you might require a heavier (straight or loaded) waggler to make sure your bait stays as still as possible.
Leger
When seeking out bottom feeding fish like bream, tench and carp, legering is the simplest method. This requires a weight on the main line to hold the bait in place on the bed of the river. This method is also useful in tidal waters or windy conditions that could make float fishing difficult.
 Feeder
Usually used for fishing carp, the feeder method is popular among anglers of all abilities. A feeder is a weighted device that contains food with the hook and bait inside. While the method is effective, you will need to be vigilant as larger fish can be forceful and pull the rod into the river if you are not prepared.
 Inside the tackle box
Depending on the method you choose, there are different styles of float and feeder rods available. Either way, a 10ft rod with a light rod tip should be effective for small and medium sized fish. Along with the rod, a reel is vital. To make sure they will work well together, it is best to buy your rod and reel together in a set. For roach and bream a 4,000-size reel and 4lb mainline would be ideal.
Fish baits and lures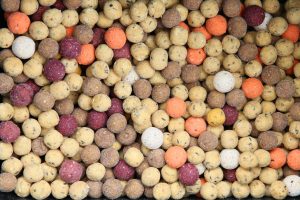 With so many different choices and opinions about what the correct tactic is for a certain species, selecting the best baits or lures for your trip can feel like a minefield. In fact, it is actually rather simple.
Lures come in thousands of shapes and sizes. Not only do they need to look like live bait, but move like it as well, requiring different reeling speeds and "jigging" actions. For this reason, it is best for beginners to simply stick with bait.
As long as the type of bait matches what the fish would eat in the local environment, you will have a good chance of pulling in a catch.
Maggots are the traditional choice and can be very effective on the Broads for catching smaller roach and bream. After a few days in a bait box, the maggots will dry out and become casters. These can help to attract perch as well as larger roach and bream.
Groundbait can be used in a feeder or mixed with water and packed into balls. Again, there are many varieties available. To keep things simple, fishmeal is best for catching bream and sweet groundbait will help to attract roach.
To catch bigger fish, you might expect to be using a specialist bait. Actually, a cheap and effective bait is corn that you would buy at the supermarket. Corn is excellent for catching big roach and tench. Deadbaits can be used to attract predatory fish like pike, but due to their size, pike fishing should be left to more experienced anglers.
Other essentials
While waiting for a bite on the banks, a rod rest and collapsible chair are vital to having an enjoyable session. Just make sure to not leave a rod on a rest unattended as a large fish could easily drag your rod into the water!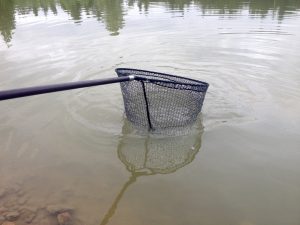 When the time comes and you get a bite, nets will help you to pull the fish from the water. Pike and other large fish may require a bigger, triangular net, but a small circular net is ideal for catches of roach, bream and perch.
Once you have your catch, disgorgers – a bit like a metal pencil with a notch cut into the end – are vital for easily removing hooks. An unhooking mat will help to make this process easier, allowing you to set the fish down without causing it injury, and freeing up your hands to remove the hooks. A keepnet is useful for sessions where you collect a large number of smaller fish. The net should be placed in the water with the rim just above the surface.
Just remember to take care of the fish and not to put too many in the same net.
Regulations, conservation and safety
All anglers fishing on the Broads are legally required to hold a non-migratory trout and course Environment Agency rod license. The licenses required are available from the Post Office and vary in cost depending on the age of the angler and the duration of the license required.
An annual adult license currently costs less than £30, but failure to produce the license to an Environment Agency bailiff will result in legal action and a fine of up to £2,500, so it is well worth making sure everyone in your party has their license to hand when they're out fishing.
Rivers, streams and waterways across England and Wales have a closed season between 15th March and 15th June each year. This allows a period of time for spawning without being fished.
It is not free to fish anywhere on the Broads. Some locations are managed by angling clubs that are likely to use a day-ticket system with a small fee. For more information about free areas, take a look at our guide to the best fishing locations in the Broads.
Other than small fish that are used for live bait, all fish that are caught in the Broads must be returned to the water.
Leaving a baited rod unattended is not only dangerous for birds, it is an offence. Similarly, keepnets and valuable equipment should also not be left unattended for a long period of time.
Essential kit for a fishing trip in the Norfolk Broads:
Fishing rod licence, buy one:
– Online from The Environment Agency
– Call the Environment Agency on 0344 800 5386 between 8am and 6pm, Monday to Friday. Calls may incur a charge.
– In person at The Post Office – if the licence is for someone over 16
Rod
Reel and line
Floats
Tackle box and bait (depends on which fish you're trying to catch)
Disgorger (to help remove the hook from the fish's mouth)
Keepnet (to hold your fish while you fish)
Landing net
Food and drink. You may be sitting down for a long time!
Wellies and other wet weather clothing: https://www.totalclothingshop.co.uk/anglingtrust
Types of fish to catch
Small/Medium
Bream
Tench
Carp
Roach
Perch
 Large
Hiring versus buying fishing equipment
Many anglers will already have their preferred techniques and equipment. For those who are angling on a regular basis, it makes sense to buy equipment as they will already know which rods, reels and hooks they require.
For beginners, hiring tackle makes a lot of sense as it will allow them the chance to experience fishing before committing to purchasing equipment. By hiring for a certain area, beginners are also likely to be using the most suitable tackle for those waters rather than generic equipment.
The benefit of hiring for more experienced anglers is the opportunity to experiment with different techniques and tackle. Hiring also eliminates the difficulty of transporting everything long distances for fishing holidays.
Guided fishing trips in the Norfolk Broads
One of the great ambitions of all anglers is to bring in a large, specimen catch. While this might be beyond many anglers on their own, taking part in a guided fishing trip will give you the best chance of making a spectacular catch.
As well as taking a trip to the best locations for making catches, experienced guides will be able to offer tips on technique to help the group bring in great catches.
A number of guided trips are available, on boats or banks, with many focusing on specialist trips to fish for pike, or carp:
Norfolk Angling & Guiding Services: http://fishthebroads.com/guided.php
The Canoe Man: http://thecanoeman.com/guidedangling.php
Norfolk Broads Pike Fishing: https://www.norfolkbroadspikefishing.co.uk/trips
Recommended books and popular fishing guides
A Guide to Fishing and Boating on the Norfolk and Suffolk Broads by Peter Craven
Pike Fishing in the Norfolk Broads by Derrick Amies
Fishing the Norfolk Broads by Peter Collins
Norfolk Broad and River Fishing – fishing for pike and other coarse fish by G. Christopher Davies
Fish-It Norfolk: A Guide to Coarse Fishing Lakes, Ponds and Rivers in the Norfolk Area by Chris Keeling