Fish Species Found on the Norfolk Broads
Whether it's pike, carp, bream, or one of the other many species of fish found in the Norfolk Broads, this guide will help you understand what you can expect to see, and catch during the fishing season!
One of the reasons that fishing trips on the Broads are so popular is the volume and diversity of coarse (freshwater fish that are returned to the water) species. With tidal, non-tidal and estuarine habitats throughout its 303-square km area, a fishing trip to Norfolk can be rewarding for anglers looking for pike, tench, rudd, roach and bream.
With such variety of fish species available, making catches will require an equally diverse range of fishing equipment, fishing tackle, techniques and fish baits, meaning that the Broads have something to offer beginners, experts and specialists alike.
For all the variety in the waters, carp are still rare in the area. Those that can be found are only there after escaping from flooded fisheries. If you are looking to be one of the lucky few who makes a catch weighing 10lb or more then the most likely locations are Waveney and Yare. Even then, most carp are accidentally caught by anglers fishing overnight for bream.
In 2015 the Environment Agency reported that anglers were estimated to boost the local economy by around £100 million due to the Broads being "arguably the best known and probably the most important single natural freshwater fishery resource in the UK".
As well as looking at the range of fish that can be found in the Broads, these tips and tricks also offer advice on methods to help you to make the biggest catches possible and which fish baits to use.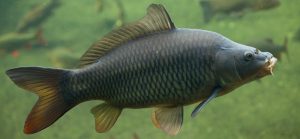 Carp fishing
River carp can tend to stay in deep water. This can make them very challenging to locate on the Broads. Because of the difficulty of catching them, carp fishing is very popular with experienced anglers.
Pre-baiting is the best way to try draw them to your area. If you are able to attract bream to the baited area, carp are likely to be found nearby. The bream are usually more active during the early hours of the morning and dusk, to these are the best times to try and find them.
High quality fish baits are recommended for larger carp but sweetcorn, maggots, pellets and groundbait can all be successful.
Method
 From the bank: float fishing or legering.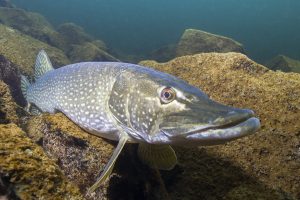 Pike fishing
As a predatory fish, pike can often be caught on dead baits or lures that imitate live fish. If you are in an area with roach and bream, it is likely that pike are nearby waiting to feed. You could either use your smaller catches as fish bait or buy dead bait, such as roach, or worms and maggots, from fishing tackle shops.
Talk of 40lb pike being caught in the Broads is thought to be something of the past. Today, a 20lb specimen would be regarded as a good catch.
With pike being so large, getting a catch requires specialist tackle and advanced techniques meaning that it is not advisable for less experienced anglers to fish for pike.
Method
 From the boat: float fishing baits on the bottom of the boat.
From the bank (fishing platform): freelining or legering.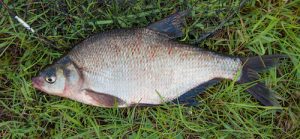 Bream fishing
Found as far downstream as Reedham and Stokesby in the summer, bream swim in shoals, meaning that if you catch one, there are likely to be many more nearby. Juvenile bream are known as skimmers and can be spotted by their distinctive silver colouring. As they mature the colour will change to a dark brown or black, and fully-grown bream can come in at over 7lb in certain areas of the Broads.
Skimmers will feed all day, but the older bream are more cautious so you will have to be out early in the morning or at dusk to be in with a chance of a big catch. It could be worth the effort if you find them in the quiet areas of open water. It is not unheard of for catches to reach around 10lb, but these require a lot of preparation.
Method
From the boat: float fishing
From the bank (fishing platform): legering with a swingtip or quivertip, depending on the speed of the water.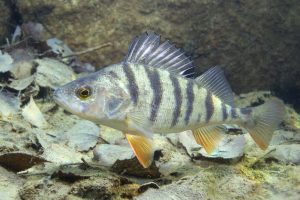 Perch fishing
In recent years, perch fishing has seen a boost in interest. With colourful bodies, perch are best identified by their stripes and spiked fins. They are a regular catch and can be found across the Broads.
Perch typically only reach 12oz, but many tipping the scales over 1lb can be found. Even larger catches are becoming more common with some reaching up to 3lb.
Between their distinctive markings, strong numbers and a good chance of bringing in specimens, the perch is becoming a very popular species on the Broads.
Perch look for cover and deeper water so overhanging trees and reed-filled areas are excellent sites to target. If you are on a boat, try quay heading areas that are close to moorings. Sites like this can be effective across the Broads.
Method
From the boat:  float and leger, either on the bottom or fished deep.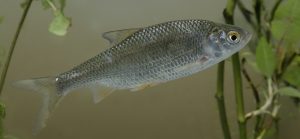 Roach fishing
Common across the UK and popular with coarse anglers, a roach's silver body and red fin makes them easy to identify. Small roach (redfins) are also easy to find but only weigh between 2 and 6oz.
Roach are likely to head towards boatyards when the weather turns cold in the winter but are found across the Broads during the rest of the year. As a shoal fish, roach will normally feed on the bottom, but can be tempted by slow-sinking fish baits.
Larger specimens (1lb or above) can be fairly easy to find provided you are willing to fish very early or much later in the day.
Method
Match anglers would favour using a pole with a short line, but float fishing should work well in still water.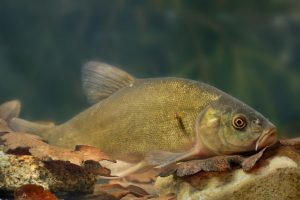 Tench fishing
With an olive colour and a distinctive red eye, tench are certainly not the most common species in the Broads, but are popular in the summer when they can be mainly found on the Thurne and Trinity Broads.
Any areas where the bottom is hard are good locations to find tench. Looking close to lilies or reeds are likely to give you the best chance of success.
Tench found in the Broads tend to grow to a good size, around 3-4lb, with specimens reaching as high as 6lb.
Method
From the boat: float fishing laying on the bottom.
From the bank (fishing platform): legering with a running leger.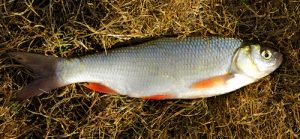 Rudd fishing
As rare as it is around the country, rudd is still common around Upper Thurne and Trinity Broads. Larger specimens have also been caught at Hickling Broads. The best areas to find them are in quiet bays and close to marginal reed beds.
Golden bodied with red fins, rudd are typically under 1lb, so bringing in anything larger could be regarded as a specimen.
Rudd can feed at the surface and bottom, but are lively and can be easily scared, so making a catch may require an angler with some experience.
Method
Float fishing with a slow sinking waggler.
Preparing for your Broads fishing trip
Coarse fishing (close season) is not permitted from 15th March to 15th June and there's a heavy fine if you are caught fishing illegally (£2500). Coarse fish are freshwater fish such as bream, barbel, pike, gudgeon, chub, perch, roach and rudd. During the close season, anglers can fish for game species such as salmon and trout instead.
Game species open season on rivers in England is usually from 1st February (salmon) 1st April (trout) to 31st September (Trout) and 31st October (salmon). These dates can vary depending on the location so we advise checking with a local fishing tackle shop if you're unsure. They will be able to advise you on the best ground baits and line baits too!
You'll need a rod licence to fish (during any part of the season). A fishing licence runs from 1st April to 31st March. You can buy one from the Post Office or on the Environment Agency website. Children under 12 don't need a rod licence while children between 12 and 16 do need one but it's free.
More guides to fishing on the Broads
If you are planning to fish on the Norfolk Broads, whether for roach and bream or something more adventurous, our Fishing Guide contains lots of useful information about fishing spots, conditions and the types of fish available. Our review of fishing on the Broads by Angling Times writer Tony Grigorjevs is also well worth a read.
A quarter of the rarest wildlife in the UK can be found in the Broads. Our Nature Guide will also help you identify some of these including with Britain's largest butterfly, the Swallowtail, marsh harrier and the rare Norfolk hawker dragonfly