The Best Fishing Locations on the Norfolk Broads
Norfolk offers some of the best fishing in the UK by way of salt water, private and public fishing locations. If you're considering a fishing trip on the Norfolk Broads look no further than our fishing guide.
The Norfolk Broads are one of the most popular locations for angling and fishing holidays in Britain. With a wide range of fresh water fish, the 300sq km of lakes and rivers offer the opportunity for anglers of all abilities to enjoy a fishing holiday in stunning natural surroundings.
Whether you're on the hunt for roach, perch or bream – or even fancy a spot of pike fishing – this guide will look at some of the best rivers and fishing spots in the Broads and help you decide which one is right for you depending on your ability and which type of fish you're likely to catch.
 
Potter Heigham
If you want to fish for bream then Potter Heigham, on the river Thurne, is a good place. The boatyard is a great spot for beginners because plenty of fish will often gather in this area as they seek out shelter from the cold and wind.
While it is possible to fish on both sides of the bridge, the Martham side is generally regarded to be the better water as few boats can get under the bridge so there's less water disturbance.
This is generally a good spot for day fishing with skimmers also in good supply during the summer days, but for the best results, use ground bait and fish later in the evening. Bream and roach can also be caught here and pike fishing is also an option.
Martham Broad
Unlike many locations, there are few boats mooring in Martham, keeping the water cleaner and calmer. This level of water purity makes it stand out compared to nearby spots like Hickling which suffers from high levels of saline.
Angling restrictions are in place to minimise the number of boats on the water to preserve the condition of the Broad. The North Broad requires a permit from the Norfolk Wildlife Trust, but no fishing is allowed at any time in the South Broad.
Acle Bridge and Upton Dyke
Acle is considered the final downstream location for non-tidal fishing. Beyond this point, the combination of depth and speed of the tidal waters should be left to experienced anglers looking for a challenge and who may have more advanced fishing equipment. Making a good catch will probably require the use of a heavy feeder.
Luckily, the area is good for finding bream and roach in warmer weather. A good area to find larger catches lies between Acle Bridge and St. Bennet's Abbey.
At the start of the coarse open fishing season (16th June) the area between Acle Bridge and Upton Dyke is also an excellent location where anglers (especially beginners) will be able to bring in a good number of skimmers and other smaller species. Privately owned bodies of water may also have different fishing seasons and you may need to check local byelaws because these will explain when you can fish, where, how and which fish you can take.
Salhouse Broad
Salhouse is hidden amongst the trees, close to the centre of the Broads and one of the most picturesque areas in the entire region. Just eight miles from Norwich city centre, it is easy to reach and a good location for first-time anglers because roach, perch and bream are all common in the area.
These species are easier to fish than larger species such as pike for instance. It is unlikely you'll come away with a prize-winning catch, but you could collect a good haul of smaller and medium sized fish.
The tidal effect here could be stronger than you might anticipate, so make sure your fishing equipment is suitable and bait your swim heavily, especially if you are used to still waters. If you're looking to fish roach in this area, maggots (fly larvae), worm and sweetcorn are excellent baits.
The type of weather in the days before you arrive will help you to choose the right fishing tackle and the perfect spot. If there hasn't been much rain then the upper reaches will fish better than the lower. This is due to the salt tides, which is a phenomenon where the lower course of a river will become salty during dry spells, encouraging the fish in the area to move away.
Horning
Located on the River Bure, Horning has a wide variety of species to fish for at any time of day or night. This includes bream and roach that feed throughout both the day and night, making it a great location for building confidence and mastering which fishing tackle to use and the use of feeders (to catch bottom feeders).
After dark, there is the possibility of unearthing even more exciting finds, when large tench are more likely to appear. For more experienced anglers, the area is also excellent for pike because they lurk at the entrance to the dykes in the summer, waiting to feed on smaller fish under the cover of darkness.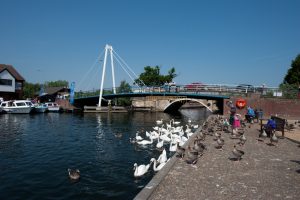 Wroxham
Known as the capital of the Broads, Wroxham has been stunningly preserved by limited access via footpaths and roads. Its tidal sections are well known for predatory species. So, if you want to try your hand at pike fishing, this could be the spot for you. To make the most of your fishing trip, hire a boat.
In the summer, this area is popular with families, many with children who like to feed the ducks. This regular supply of bread is attractive to smaller fish, making Wroxham another excellent spot to find roach and bream during the day, and tench at night. For this reason, the area is fished all season with ground bait.
As with any location where small fish are plentiful, this also means you are likely to find a good head of pike, which have learned to catch the smaller fish when they are put back into the water.
Best River Fishing Spots on the Broads
The guide below will help you identify some of the best fishing spots on each river, what fish can be caught at each site and other useful information to help anglers get the most out their fishing trip.
While some spots are free to fish and some require a permit, it is important to remember that coarse fishing is not allowed on any rivers in England between March 15th and June 15th.
For beginners: coarse fish are freshwater fish such as bream, barbel, pike, gudgeon, chub, perch, roach and rudd.
Freshwater "game" fish are all salmonids e.g. salmon, trout and char.
River Ant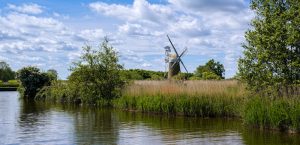 A tributary of the river Bure, the Ant runs from Smallburgh to a junction with the Bure. At 27km long, the Ant is one of the shortest and narrowest rivers in the Broads.
Wayford Bridge
Trees line the river up to Wayford Bridge, creating many small, covered locations. These are ideal when fishing for larger fish because roach and pike gather in these areas when looking for shelter. As the water can become busy with cruisers using the bridge, the only thing to consider at Wayford is avoiding peak times. 
Ludham Bridge North/South
Both sides of the bridge are good spots but the north is more popular. This is likely due to the activity of boats on the waters to the south.When the water is quieter in the evenings, a float is the best method to catch some of the many roach and perch in the area. If you can find bream, a feeder could tempt them. With an excellent head of silverfish, pike are also common.
Irstead
The small village of Irstead is a peaceful residential area with free fishing and plenty of space. The river Ant is situated to the east of the village, with Barton Broad to the north.The downstream section to How Hill is the best spot as the water narrows, channelling the fish. This area is well known for predatory species, so look out for them as well as the bream they hunt.
Barton Turf
Located at the north of Barton Broad, Barton Turf is an excellent free fishing area which can offer dace, perch, pike and rudd. This location is especially fruitful in winter, but can be successful throughout the whole season thanks to the amount of smaller fish attracting predators.
River Bure
 
The Bure is one of the major rivers of the Broads system. Due to its size, there are some stretches that are difficult to fish. The head of navigation is at Coltishall and passes through Wroxham, Horning and Acle before reaching Gorleston, where it flows into the sea.
Coltishall Common
While this 300-yard stretch is tidal, it is hardly noticeable. The steady flow offers great variety throughout the season. Winter can offer larger than average bream as well as a selection of dace and trout. A bonus is that anywhere, on either bank, can offer good swims.
River Thurne
The Thurne is a short, tidal river connecting several water courses. Linked to Hickling Broad, the Thurne flows through Potter Heigham before joining the Bure. 
Thurne Mouth
Between Thurne Mouth and Ant Mouth is one of the best spots on the Broads for day fishing simply because there is so much colour. Because of the variety, you are likely to be able to use a number of tactics and bring in a varied catch.
Hickling
The headwaters of the River Thune offer free fishing and can deliver exceptional catches of high-quality perch, along with smaller fish. This might the result of a lack of pike in the area. Hickling has a high saline level that has is thought to be toxic for pike larvae, resulting in fewer predators.
Other rivers to fish in the Broads
The rivers mentioned above are part of the northern Broads system, but there are also many more rivers, lakes, tributaries and waters to fish in the southern Broads. For example: the Yare, Chet, Wensum (flowing through the heart of Norwich) and Waveney. They offer a wide range of fish, fishing conditions and fishing platforms (pegs) along their banks so do consider them as part of your fishing holiday.
Form and catch reports
While many of these fishing locations include good spots for finding small fish, it is possible that areas may be sparser than expected. With such a vast area of wetland, fish stocks can move freely around the Broads depending on the weather and seasons.
The positive is that it isn't uncommon for an area that was lacking roach and perch one day to be full of them just a few days later. Keep up with the current form and catch reports for the area you are visiting to stay ahead of the curve and improve your chances of success.
To avoid missing out on the catch, read our guide to being prepared and make sure you have a valid Environment Agency rod fishing licence before you go. If you don't have one, you can buy these online or from the Post Office. Once you've got your licence, all the right fishing equipment and chosen a great location, you're good to go!
Private fishing spots in the Broads
And what fishing guide would be complete without mentioning privately owned bodies of water? There are many fishing platforms (pegs) along the rivers and other areas of the Broads that are open to the public and free to fish on.
However, many stretches of river and Broads are privately owned or managed and will require a rod fishing licence along with a permit, day-ticket or permission from the owner before you can access and fish them.
For example:
Decoy Broad, Woodbastwick
Hall Farm Fisheries, Mill Road, Burgh Castle
Hickling Broad and Heigham Sound
Ranworth Broad, hundred-acre broad, boats only
The Trinity Broads, Ormesby St. Michael
Turf Hole Pond (Red Roof Farm), Potter Heigham
If you're not sure whether your chosen fishing spot is public or private, check with a local fishing tackle shop because they will certainly know. They will also know which ground baits to use!
Saltwater fishing in the Broads
The Broads, which includes seven navigable rivers, are subject to tidal influence of varying degrees. The effect of the tide decreases the further the distance from the sea. For instance, while Breydon Water is highly tidal, the River Ant (upstream of Barton Broad) is effectively non-tidal.
Also, be aware that the tide's influence isn't limited to the rise and fall of the waterline or the currents. The tide changes the salt content of the water, which can influence the type and quantity of fish found in an area.
Salt sinks to the bottom of a river, so if you test the water at the surface it might not taste salty, but deeper down it may still be too salty for the fish you're after. This means you might need to move upstream or further in land where the salt content is lower.
Fishing season on the Broads
Having the right fishing equipment, fishing tackle and the right location are all important, but so is knowing when to go.
Coarse fishing (close season) is not permitted from 15th March to 15th June. You may face prosecution and a fine of up to £2500 if you fish illegally. Coarse fish are freshwater fish such as bream, barbel, pike, gudgeon, chub, perch, roach and rudd.
These restrictions are in place to help protect coarse fish during their breeding season, stop over fishing and to help the fish stocks regenerate.
During the coarse fishing close season, anglers can fish for game species such as salmon and trout instead.
Game species open season on rivers in England is usually from 1st February (salmon) 1st April (trout) to 31st September (Trout) and 31st October (salmon). These dates can vary depending on the location though. Always check with a local fishing tackle shop if you're unsure.
You'll need a rod licence to fish on any water (including fishing for freshwater fish and eels). This licence runs from 1st April to 31st March. You can buy one from the Post Office or on the Environment Agency website.
There are different types of licence: a trout, coarse fish and eel licence, a salmon and sea trout licence and spod and marker rod licences. Children under 12 don't need a rod licence while children between 12 and 16 do need one but it's free.
Other useful fishing information
If you are visiting the Broads for the first time, for a fishing holiday, take a look at our wide range of infornation on fishing on the Broads: