Rivers on the Norfolk Broads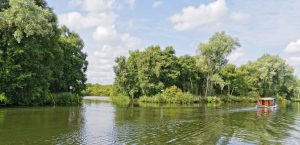 1.     River Bure
Flowing 51km before reaching the sea at Gorleston, the Bure is the longest of the rivers on the Broads. With such a length, there are some stretches that are challenging to fish, but there are also many excellent locations.
Coltishall Common is a great place to start. Even though it is on the lower Bure and tidal, don't let the potential for challenging conditions put you off. With 300-yards of free fishing and steady flowing waters, this is the perfect location to use a stick float with a maggot to catch roach and perch.
During the summer months Wroxham attracts a lot of roach and bream thanks to the large number of people using bread to feed the ducks, with fish being attracted to the area by the bread that falls to the bottom of the river. As the fish begin to move upstream to avoid the salt tides, Wroxham also becomes an excellent location for early autumn fishing. As the weather turns colder, the boat yards become a good location to find silver fish seeking calm, warmer waters.
An exciting development came in March 2017 when a local chub specialist, Tom Martin, caught three chub over 7lb in the upper Bure. This area is rarely fished by professionals, but Tom's effort proves that the rewards are there for those willing to seek them out.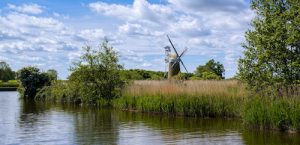 2.     River Ant
The Ant is quite a popular spot for both bank fishing and river traffic, so early mornings and evenings are the best times to visit the bankside. At Ludham Bridge there is a two mile stretch for free fishing. Here you will be able to fish for pike as well as bream, perch, roach and rudd. The area around the bridge is perfect for adding some variety to your fishing trip by hiring a day boat to explore the area.
Stick or pole fishing can have great rewards between Ant Mouth and How Hill, where there is a good head of bream reaching 8lb, and roach.
3.     River Thurne
The Thurne is a short (11km) tidal river that flows through Potter Heigham and connects with Horsey Mere and Hickling Broad. Free fishing is available at both Martham Boatyard and Potter Heigham and wheelchair-friendly platforms can be found at Rollesby Bridge and Filby Broads.
Angling Times writer Tony Grigorjevs made his first visit to the Broads in 2014 and began near the bridge in Potter Heigham with a simple setup: a ground bait feeder and maggot hook bait. The result was double figures of roach and skimmers. Tony said himself: "If someone as out-of-tune with river fishing such as myself could catch that, I daren't dream what a seasoned expert would put together!"
Between Thurne Mouth and Ant Mouth you will find constant colour. With some of the best daytime fishing the area has to offer, you are likely to have success catching bream and roach with a feeder or stick float respectively.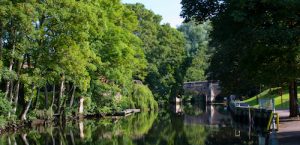 4.     River Wensum
The Wensum is one of the most picturesque spots for fishing on the entire Broads. This is likely a result of whole river being protected as a Special Area of Conservation and a Site of Special Scientific Interest. It is a small river, no more than 20 feet across, with many tight bends (Wensum means 'winding' in Old English).
The source is in north-west Norfolk and flows through Fakenham and Taverham before heading into Norwich and out to Whitlingham to merge with the Yare.
The Wensum is at its best for fly fishing in the spring but there are many locations including Fakenham Mill, Riverside and Yacht Station that offer excellent opportunities for fishing across the whole season.
Large chub (6-7lb) are not uncommon here and, while barbel are thought to be increasingly common, they are still elusive and can prove to be quite a challenge to catch.
While it is an excellent location, expect to have to purchase a season or day ticket for some of the most scenic locations. Otherwise, free fishing is available at Fakenham Common.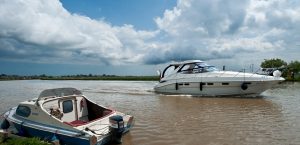 5.     River Yare
Fishing on the Yare can be some of the most challenging on the Broads. This is a strong tidal river that will require experience and skill to make for a successful day. The area is so highly regarded that is it used for match fishing, with anglers travelling across the country to take on the challenge.
The most popular techniques in this area are swim feeders and pole fishing. It is a powerful river, but if you are experienced and prepared with the right equipment and heavy ground bait, you are sure to have some great results. While many of the fish are smaller in the tidal sections, large roach are caught here regularly. It can also be good conditions for bream.
While there are many private sections, there is plenty of free bank fishing at the lower end of the non-tidal section. Try Surlingham Ferry, Buckenham Ferry and Cringleford Bridge, all of which can offer both dace and roach.
If you are planning a fishing trip to the Broads for the first time, take a look at our beginners' guides covering locations and equipment.